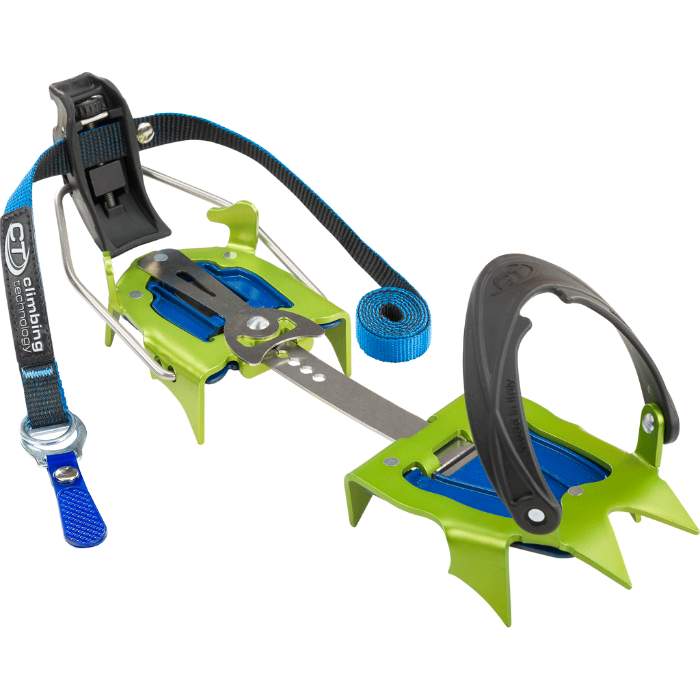 Description
10-point crampons designed for ski touring and progression on snow. The particular design of the points provides the crampons with great holding power over all types of snow.
Main characteristics :
crampon design specifically to better fit the great variety of ski-touring boot shapes;
anodized light-alloy frame with front points boasting large surface areas for improved frontal lift on snow;
four downward-facing retaining points for the descents;
heel binding with rear flaps to ensure seamless fit of the boots over the crampons, even in small sizes;
flexible and adjustable linking bar, that allows for the use of the crampons also with non-rigid boots;
rigid ANTIBOTTS secured with rivets;
automatic version specifically designed for ski touring boots and boots compatible with clip-on crampons;
semiautomatic version for boots with rear welts crampon compatible;
classic version with wide binding straps in polymeric material that allow for good fit over all types of boots, with or without welts for clip-on crampons;
come with two rapid adjustment size bars;
carry bag included.
Weight per Pair (g / oz)

Weight per Pair (g / oz)

In grams and ounces, the weight of both crampons together, as stated by the manufacturer/brand.

If there are differences in weight (due to multiple sizes or optional accessories) we'll note those here.

590 g / 20.80 oz­
Ideal Uses
Glacier Travel / Mountaineering
Binding System
Semi-auto
Sizing
US 4.5 - 12, EU 36 - 46
Front Points
Horizontal Dual ­
Front Point Offset
No
Number of Points
10
Main Material
Anodized Light Alloy
Wear Indicators
No
Anti-Ball Plates
Included­
Crampon Case
Included­
Heel Spur Attachment
None made for this model­
Certification

Certifications

The main climbing gear certifications are CE and UIAA--and normally the UIAA creates the rules that the CE body also supports. When possible, we try to list all the certifications the product carries.

To sell a climbing product in Europe, the device must be CE certified. There are no official requirements to sell climbing gear in the US. The UIAA certification is a voluntary process.

Learn More

CE, EN, UIAA
If you know of a good product video that should be here, let us know, and we'll put it up.
If you're looking for gear videos in general, check out our Vimeo and YouTube channels to see the newest gear.