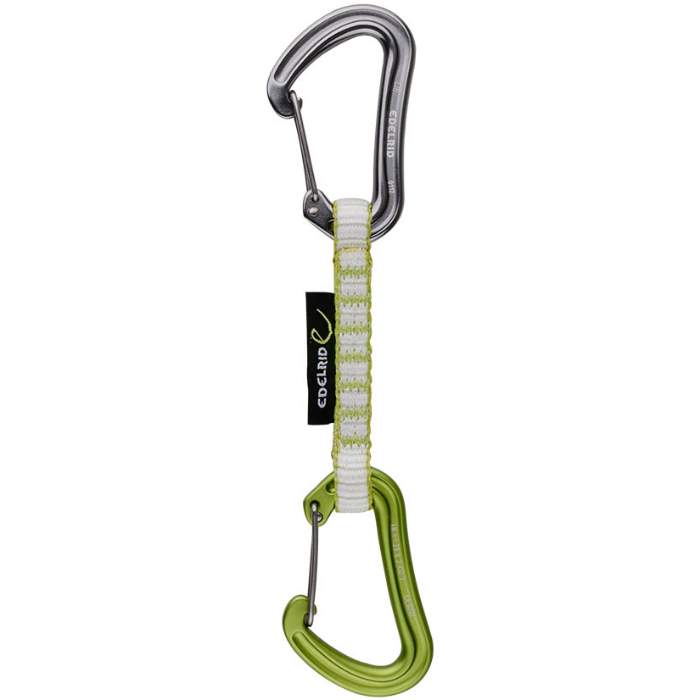 Description
The lightest carabiner set on the market. The Nineteen G Set will significantly reduce the weight of any rack. Ideal for alpine climbing or routes where every gram counts.
H-profile construction ensures best possible use of material and minimal weight
Lightweight wire gates reduce whiplash effect on gate in the event of a fall
Minimal weight thanks to ultra-light Nineteen G carabiner and ultra-strong 11 mm Dyneema® quickdraw sling
When you click a link below and then checkout online, no matter what you buy (climbing gear or not), we get a small commission that helps us keep this site up-to-date. Thanks!
If you can't see any buying options above, try turning off all ad-blocking plugins.
| | |
| --- | --- |
| Weight | 46 g |
| Dogbone Size | 10 cm long, 11 mm wide |
| Dogbone Material | Dyneema / UHMWPE­ |
| Dogbone Strength (kN) | 22 kN |
| Top Carabiner | Nineteen G - |
| Bottom Carabiner | Nineteen G - |
Nineteen G Carabiner and Quickdraw
This video talks about rope, rope bag, harness and carabiners, at 6:09 it talks about the 19G.

Tagged as "the lightest carabiner set on the market," these clippers barely tip the scales at 19.5 grams (about 0.7 oz.) per biner—hence the name. That's about 20 percent lighter than the sveltest micro-biners out there. Put another way, a rack of 10 Edelrid Nineteen G quickdraws with 10cm Dyneema slings weighs less than a pound. (Using 18cm slings would add only an ounce to your harness.) Our tester loved the weight savings for the long routes and off-trail approaches at Red Rock Canyon in Nevada, and she never fumbled a clip. "The action is snappy and satisfying, especially with 9.8mm and skinnier ropes," she said. Made from a high-strength aluminum alloy with a proprietary hardening process, these biners meet minimum CEN strength rating at 20kN closed-gate strength and 7kN for open-gate.

So, to sum things up. The 19G quickdraws from Edelrid are a well made, full strength and ultralight quickdraw, best suited to classic alpinism, but also a great supplementary addition to your trad or sport rack. Their small size means they are not as easy to clip, particularly when wearing gloves but they do a great job of reducing the weight on your back or around your waist, meaning you can move quicker and more efficiently. Light really can be right!

To summarise: these are ideal if you are shaving weight, for instance Alpine use or super long multi-pitch routes when weight is more important or, nowadays, the need to keep within strict budget airline baggage allowances. I read somewhere that these are, 'These are a bit like Marmite – you'll either love or hate them. Me, well I don't like Marmite but I do love these small wonders'. Well for me that sums it up nicely and yes when lightweight is key they are excellent, however, they may not be for everyone or, dare I say it, for everyday use when a more substantial quickdraw set may make more sense.
How to use Edelrid quickdraw, safety, warnings, lifespan and replacement.