The 7.8MM 30M 2XDRY is officially retired.You've found a page of history! The 7.8MM 30M 2XDRY is no longer produced by Black Diamond and it is not available to buy from major online retailers. You can still check out all the specs and claim your ownership.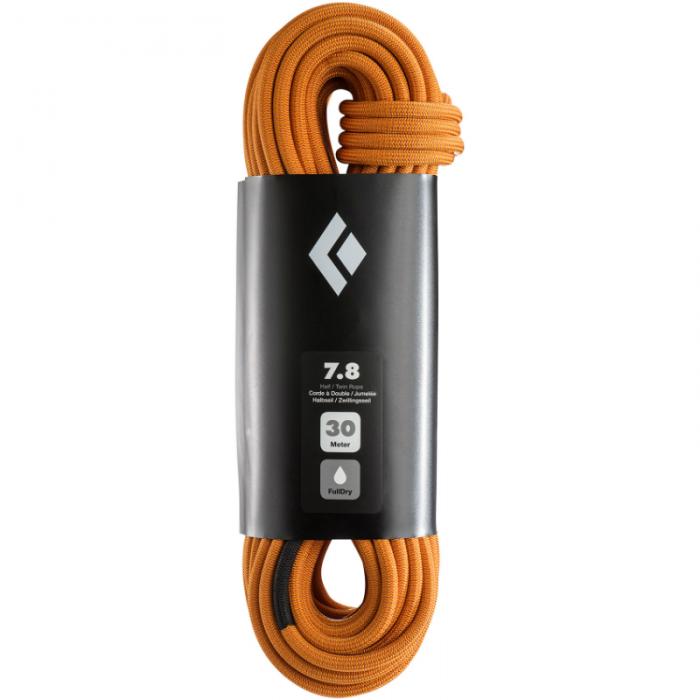 Description
Ideal for when light is right on long alpine routes and tricky weather windows. 
When you're pushing for the summit, the Black Diamond 7.8 is the tool for the job. With a burly sheath and a full dry treatment, it handles the onslaught of the mountains and can pair with a second rope for belaying and long rappels.
Endurance sheath.
This Product is Hard to Find.
We don't know where you can buy this item online in the US. We'll continue to check all the major retailers and will update this page as soon as we find one.
If you know where to find this online in the US, let us know, and we'll add the link.
Weight
41.0 g/m
2.711 lbs / 1230 g
Diameter (millimeters)
7.8 mm
Length (meters)
30 m
Rope Type
Half/Twin
UIAA Falls (Single / Half / Twin)
­0 / 6 / 14
Dynamic Elongation (Single / Half / Twin)
0.0 % / 35.0 % / 33.0 %
Static Elongation (Single / Half / Twin)
0.0 % / 10.2 % / 6.6 %
Impact Force (Single / Half / Twin)
0.00 kN / 5.50 kN / 8.00 kN
Dry Treatment
Sheath & Core­
Sheath Proportion (%)
­
Sheath Slippage (mm)
0 mm
Rope End Marker
None
Certification
­
Marking
A pictoral representation of UIAA-101 and EN-892 standards for ropes.
The UIAA equipment standard provides a baseline for equipment performance in a test lab under controlled conditions on new equipment. Although these test conditions are relevant to the conditions encountered climbing, conditions encountered at the crags and the condition of the equipment are equally important. This recommendation from the UIAA member federation The British Mountaineering Council (BMC) provides vital equipment information that is NOT explicitly addressed in the standard, particularly failure modes of the equipment and recommendations for the use, inspection, maintenance, and retirement of equipment.