The 10.2mm Glider 70m Bipattern 2xDry is officially retired.You've found a page of history! The 10.2mm Glider 70m Bipattern 2xDry is no longer produced by Maxim/New England and it is not available to buy from major online retailers. You can still check out all the specs and claim your ownership.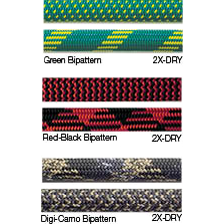 10.2mm Glider 70m Bipattern 2xDry
Description
Our Glider series represents the ultimate in durability and reduced rope drag. Built to the same high performance standards as our Apex products, ropes in the Glider series utilize our TPT (Twill Pattern Technology) sheath design, significantly reducing drag. It's the rope that Rock and Ice described as "a fabulous feel without being soft and mushy...noticeably reduces drag...[and is a] real joy to handle with minimal kinking..."
This Product is Hard to Find.
We don't know where you can buy this item online in the US. We'll continue to check all the major retailers and will update this page as soon as we find one.
If you know where to find this online in the US, let us know, and we'll add the link.
Weight
66.0 g/m
10.190 lbs / 4620 g
Diameter (millimeters)
10.2 mm
Length (meters)
70 m
Rope Type
Single­
UIAA Falls (Single / Half / Twin)
­9 / 00
Dynamic Elongation (Single / Half / Twin)
29.0 % / 0.0 % / 0.0 %
Static Elongation (Single / Half / Twin)
4.5 % / 0.0 % / 0.0 %
Impact Force (Single / Half / Twin)
9.80 kN / 0.00 kN / 0.00 kN
Dry Treatment
Sheath & Core­
Sheath Proportion (%)
­
Sheath Slippage (mm)
0 mm
Type of Middle Mark
Bipattern
Rope End Marker
None
Certification
­