Hanwag has been manufacturing high-quality mountaineering and trekking footwear at its headquarters in Vierkirchen, near Munich since 1921. Hanwag footwear stands for traditional Bavarian craftsmanship and durability combined with technical expertise and continuous innovation. With a specific focus on the perfect fit, robustness and high-quality materials, all of the company's footwear is made in Europe.
Black Manufacturer Logo 180 x 100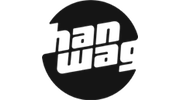 Warranty
Hanwag offers a 2-year warranty period that starts from the purchase date stated on your receipt. Note that they only accept goods purchased through their website. For goods purchased in the store/through resellers the warranty issues should be handled by the respective place of purchase that is specified on your receipt.
If you wish to submit a warranty claim on a product purchased through the Hanwag website, please contact customer service via e-mail customerservice@hanwag.com or by phone +46 (0)8 54518688.