This version of the 9.7mm Anniversary 60m 2xDry is officially retired.You've found a page of history! The 9.7mm Anniversary 60m 2xDry is no longer produced by Edelrid and it is not available to buy from major online retailers. You can still check out all the specs and claim your ownership.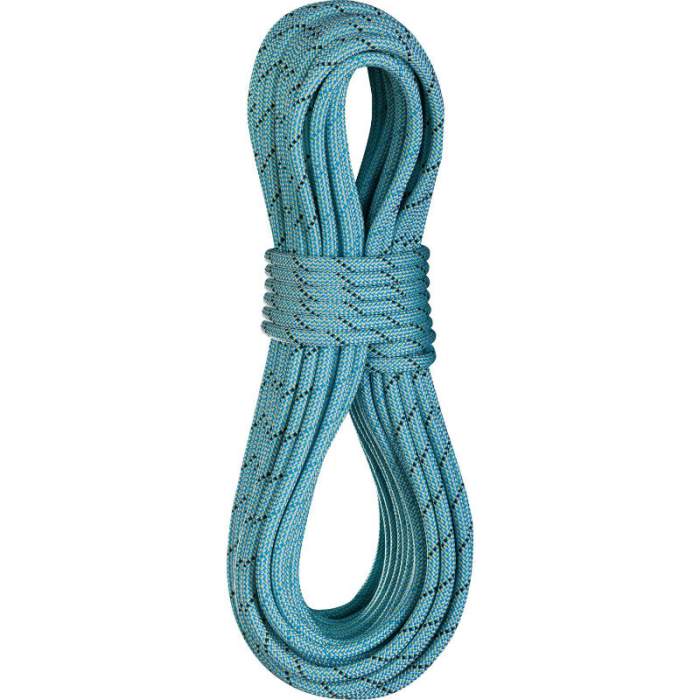 9.7mm Anniversary 60m 2xDry
Description
Pro Shield finish for optimal performance
Dry Shield finish for outstanding dirt and water resistance
Thermo Shield treatment for perfect handling
With limited edition Caddy rope bag
When you click a link below and then checkout online, no matter what you buy (climbing gear or not), we get a small commission that helps us keep this site up-to-date. Thanks!
If you can't see any buying options above, try turning off all ad-blocking plugins.
Weight
61.0 g/m
8.068 lbs / 3660 g
Diameter (millimeters)
9.7 mm
Length (meters)
60 m
Rope Type
Single
UIAA Falls (Single / Half / Twin)
9 falls / - / -
Dynamic Elongation (Single / Half / Twin)
31.0 % / - / -
Static Elongation (Single / Half / Twin)
9.2 % / - / -
Impact Force (Single / Half / Twin)
8.70 kN / - / -
Dry Treatment
Sheath & Core­
Sheath Proportion (%)
41.0 %
Sheath Slippage (mm)
0 mm
Type of Middle Mark
Marking
Rope End Marker
None
RFID / NFC Option

RFID and NCF

This technology can be helpful if you are a gym or professional business where you'd like to track the usage and age of your ropes.

RFID is how items are uniquely identified using radio waves (Radio Frequency Identification). It's for 1-way communication from 10cm to 100m away depending on the frequency. Example: Airport Baggage.

NFC is a subset of RFID that is restrained to close proximity communication typically less than 10cm (Near Field Communication). NFC chips can operate a 2-way signal to exchange information. Example: Apple Pay.

None
Certification
CE, EN, UIAA

The first thing I noticed about the Anniversary Rope – as I spent half an hour untangling it – is that it has a really nice 'hand', that term climbers use for the feel of a rope. This initial feeling proved to be accurate. Many ropes, particularly the first couple of times you use them, can often get annoyingly kinky, but the Anniversary Rope has run smoothly from the beginning, only really giving me problems when I have lowered climbers off badly set up anchors (like the clip-and-goes on Redex Irlont Sudano at Werribee Gorge) and that is hardly the fault of the rope. It also hasn't stiffened up with use as some ropes tend to do.
I've been using this rope for about a month and have put it through an inordinate amount of abuse during that time. In addition to the standard wear received from sport and trad climbing, and the standard lead falls associated, I've also been jugging on it and rapping over plenty of edges to see if the sheath can take a beating. So far, I'm giving this rope an A rating, surprisingly for the fact that it's completely average.

The major drawback of the Anniversary Rope is the fact that it only comes in 60-meter lengths. Although many climbs don't demand anything longer, the trend in some areas is toward extensions and longer pitches of 35 and even 40 meters. If you climb in these areas, then this won't be the rope for you. If, however, 30 meters is the extent of your particular klettergarten's climbs then it would be a stretch to do better than the Anniversary.
How to use Edelrid rope, safety, storage, transport, care, lifespan and replacement with instructional pictures.