This version of the Nano 23 Express is officially retired.You've found a page of history! The Nano 23 Express is no longer produced by CAMP and it is not available to buy from major online retailers. You can still check out all the specs and claim your ownership.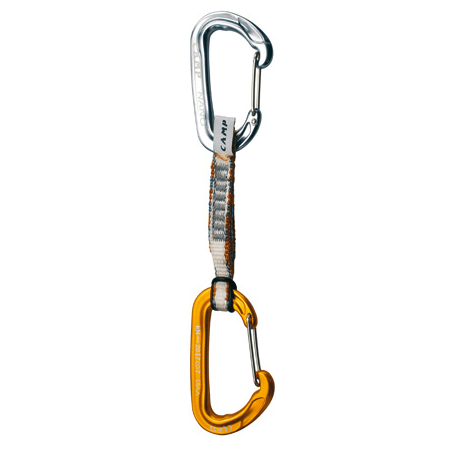 Description
• Rock Climbing, Alpine Climbing
• World's lightest quickdraw!
• Silver carabiner for the bolt end and orange carabiner for the rope end
• 8 mm x 10 cm Dyneema® dogbone
The lightest quick draw in the world at just 53 grams (1.9 oz)! The CAMP Nano 23 has a 8mm Dyneema® dog bone that connects two Nano 23 carabiners. A rack of these can cut over a pound of excess weight compared to standard draws.
This Product is Hard to Find.
We don't know where you can buy this item online in the US. We'll continue to check all the major retailers and will update this page as soon as we find one.
If you know where to find this online in the US, let us know, and we'll add the link.

The CAMP Nano 23 is one of the lightest quickdraws out there. Even though it is really small, the spine is pretty easy to grab (it is less slippery than the Metolius FS Mini Quickdraw). One minor like is the fact that the small size makes it ideal for clipping into tight-fitting chain links and tiny bolt hanger holes. As with all carabiners with the wiregate design, the gate is less likely to get frozen shut on alpine routes.

A complete Nano 23 draw weighs under two ounces— about half the weight of a standard quickdraw, and makes me wonder if carabiners and draws could get any lighter or smaller. If you are looking for the very lightest rig for onsighting and alpine climbing, this is it. Of the six ultralights reviewed here, the Nano 23 is the most diminutive: its smallish gate opening can trap a finger if you use the finger-follow-through clip method. This was the biner I was most likely to mis-clip, but after a few outings I got the hang of it just fine.