The HoodWire 12cm 2015 is technically retired but it's still sold online.The HoodWire 12cm 2015 is no longer produced by Black Diamond. We're showing it as "available" on WeighMyRack because you can still find it at trustworthy online retailers.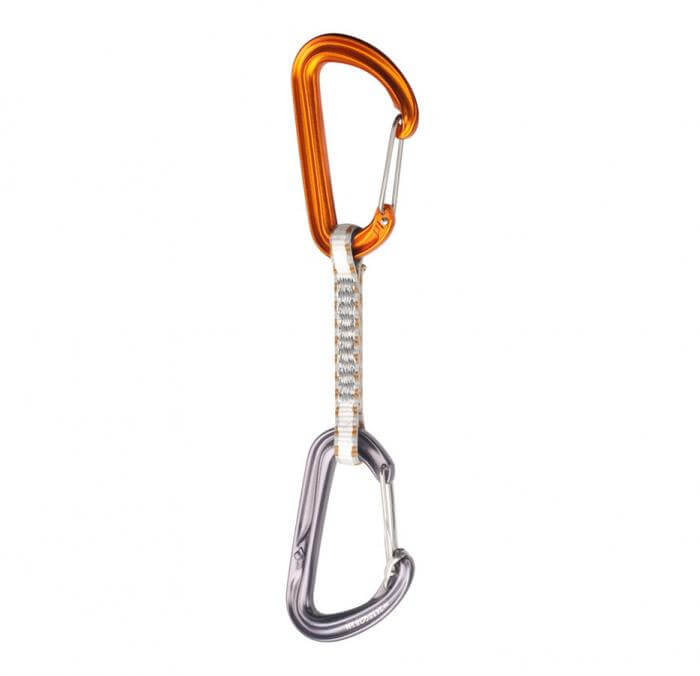 Description
Thanks to its innovative hot-forged HoodWire carabiner on top and lightweight hot-forged HotWire carabiner on bottom, the Black Diamond HoodWire Quickdraw fuses keylock performance with wiregate functionality. The HoodWire biner's metal hood eliminates snags when cleaning, and the dual wiregate design eliminates gate flutter and resists freezing in alpine conditions. The 10 mm DynexTM dogbone provides a light, durable connection, and the Straitjacket insert ensures the bottom biner stays in the optimal clipping position.
When you click a link below and then checkout online, no matter what you buy (climbing gear or not), we get a small commission that helps us keep this site up-to-date. Thanks!
If you can't see any buying options above, try turning off all ad-blocking plugins.
| | |
| --- | --- |
| Weight | 82 g |
| Dogbone Size | 12 cm long, 10 mm wide |
| Dogbone Material | Dynex­ |
| Dogbone Strength (kN) | 22 kN |
| Top Carabiner | Hoodwire - |
| Bottom Carabiner | Hotwire 2015 - |

For some reason our test biner was a little sloppy on the quality control. The wire gate was offset just a teensy-weensy bit, enough to have already chipped the anodized color off the nose. Although the design really does work, we might wait a bit to monitor long-term durability of the hood before subbing out all our Positrons.

This is the first ready-to-buy draw using BD's clever HoodWire technology. A standard wire-gate biner has a hook in the nose that can snag on bolt hangers or gear loops on your harness, but the HoodWire shields this hook with little stainless-steel strips for hassle-free clipping and unclipping. The hood will not trap debris that could cause open-gate failures, and it protects the nose from wear. This draw's 14mm Dynex bone is slim but not too small—large enough to grab in a pinch but not too heavy—and the rope-end biner sports a firm rubber gasket for stable rope clipping.
How to use Carabiners and Quickdraws, warnings, inspection, care and maintenence with instructional pictures.