The Crash 2Pad is officially retired.You've found a page of history! The Crash 2Pad is no longer produced by Milo and it is not available to buy from major online retailers. You can still check out all the specs and claim your ownership.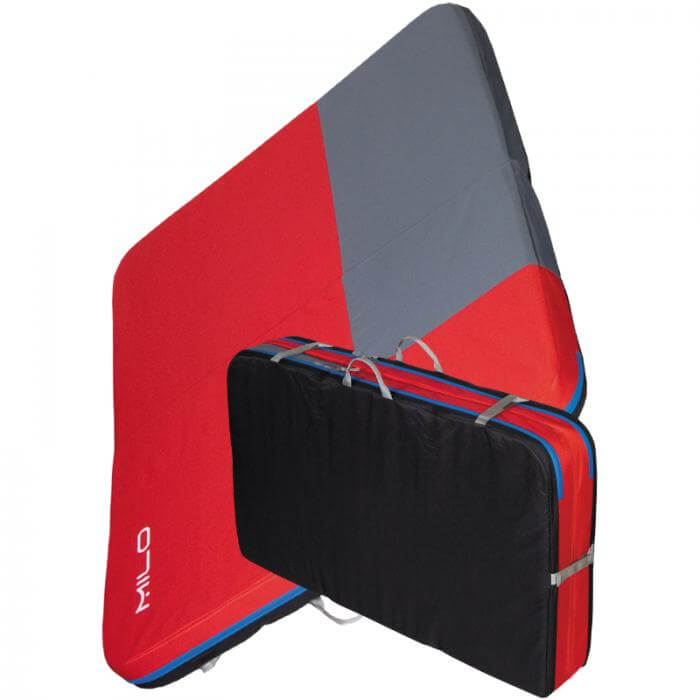 Description
CRASH 2PAD is an indispensable attribute boulderowca. It provides security and ensures a soft landing after a failed attempt to solve the problem.
Features:
2.4 m 2 surface "working" when unfolded.
Resistant to mechanical damage the outer side made ​​of PE 1000D.
4 tapes with aluminum clamps secure complex crashpad before opening.
Locks allow you to get inside pad - eg. to exchange sponges, etc.
Carrier system for easier transport Crashpad the rock.
Additional carrying handle.
Weight (lbs / kg)

Weight (lbs / kg)

In pounds and kilograms, the weight, as stated by the manufacturer/brand.

7.94 lbs / 3.60 kg
Fold Type
Straight Hinge
Number of Foam Layers
­
Foam Layout
­
Fabric
Top: Midora 600D
Bottom: Midora 600D
Features
Side Handle(s)
Dimensions (ft / m)

Dimensions (ft / m)

In feet and inches / meters and centimeters, the length, width, and height of the bouldering pad, as stated by the manufacturer/brand

6.56 ft x 3.93 ft x 3.90 in
2.00 m x 1.20 m x 10.00 cm
If you know of a good product video that should be here, let us know, and we'll put it up.
If you're looking for gear videos in general, check out our Vimeo and YouTube channels to see the newest gear.