The Junior is not imported to the US. Sadly, this shoe is not available in the US and we have limited ability to track where else in the world it's sold (sorry!). When we know more info, we'll post it here.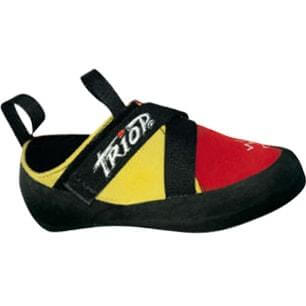 Description
A comfortable shoe gives excellent support at an affordable price. Velcro closure ensures quick and safe fastening.
Weight
210 g



Size 30 (EUR) single : 105 g / 3.7 oz
Size 30 (EUR) pair : 210 g / 7.4 oz
(we converted grams to ounces)

Closure Type
Velcro
Gender
Kids
Volume
­
Sizing Information
European sizes 28-35


Triop climbing shoes are made in French sizing with half sizes. The difference between whole sizes is 6.6 mm and between half sizes is 3.3 mm.


Triop_Shoe_Size_Chart.jpg
Best Use (Highest Performance)
All-around
Indoor
Asymmetry
­
Last Details
­
Upper Material
­Split Cowhide Leather
Midsole Material
1.6 mm Total - Termopat
Sole Material
4.0 mm Cling
Rand: V 5227
Footbed Lining

Super Royal
If you know of a good product video that should be here, let us know, and we'll put it up.
If you're looking for gear videos in general, check out our Vimeo and YouTube channels to see the newest gear.