The Velocity Women is not imported to the US. Sadly, this shoe is not available in the US and we have limited ability to track where else in the world it's sold (sorry!). When we know more info, we'll post it here.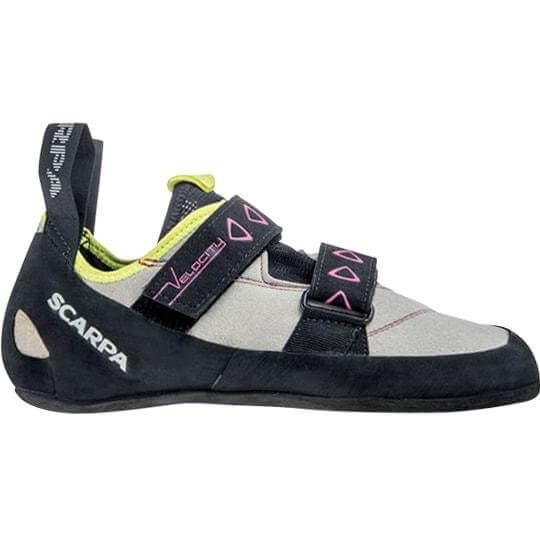 Description
Multi purpose climbing shoe with all day comfort at a great value. Ideal for multi pitch climbing or entry level gym climbing. Double floating Velcro® strap.
Price is a static conversion from
This Product is Hard to Find.
We don't know where you can buy this item online in the US. We'll continue to check all the major retailers and will update this page as soon as we find one.
If you know where to find this online in the US, let us know, and we'll add the link.
Weight
380 g



Single : 190 g / 6.70 oz (Size 38)
Pair : 380 g / 13.40 oz (Size 38)
(we converted grams to ounces)

Closure Type
Velcro
Gender
Women
Volume
­
Sizing Information
European sizes 34.5-42, including half sizes.


From your measured size, you'll want to consider downsizing .5 - 2 full sizes. The flatter the shoe, the closer to your measured size; the more downturned / aggressive the shoe, the more you'll want to downsize....


Scarpa-Shoe-Size-Chart_5.pdf
Best Use (Highest Performance)
Multi-pitch
Indoor
Asymmetry
­
Last Details
Shape: Flat (comfort)
­Last : ED Scarpa considers last information super top secret so we can't define the last types further than the initials ED. But, if you find a Scarpa shoe that fits, any Scarpa shoes with the same last initials will fit your foot in a very similar way.
Upper Material
­MICROFIBER
Midsole Material
­
Sole Material
4.0 mm TAC100­
Footbed Lining
­
Wearing Scarpa Shoes Correctly
Manufacturing of Scarpa Shoes
Video shows how and where Scarpa shoes are made.