The Django Men is not imported to the US. Sadly, this shoe is not available in the US and we have limited ability to track where else in the world it's sold (sorry!). When we know more info, we'll post it here.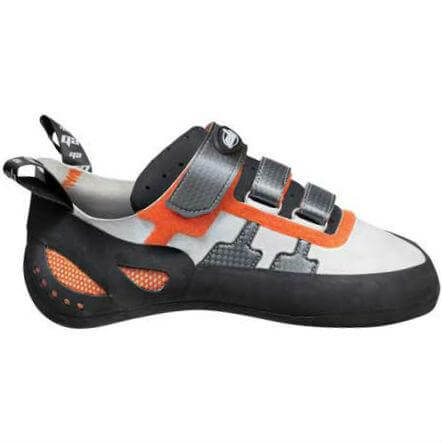 Description
The Django is new EB 2014 specially designed for climbers looking for performance. Built on a revolutionary new form that took more than 6 years of research and development, DJANGO offers you maximum precision and comfort at a time.
The tip, focus on the big toe guarantees all the sensations necessary to load tiny footholds.
For even more performance and comfort, we selected the best material for the stem with a new high-tech micro fiber FST (Foot Skin Technology). This micro fiber elastic the curves of your foot and tracks any ill vacuum for accuracy. In addition, molding themselves intelligently to your foot during the first sessions, it stabilizes definitively to maintain accuracy over time.
The triple Velcro finally gives you a perfect and quick release.
Weight
430 g



Size 40 single : 215 g / 7.6 oz
Size 40 pair : 430 g / 15.2 oz
(we converted grams to ounces)

Closure Type
Velcro
Gender
Men
Volume
­
Sizing Information
Sizes 37-45, including half sizes.
­­
Best Use (Highest Performance)
Bouldering
Indoor
Asymmetry
Aggressive
Last Details
Shape: Arched (technical)
­­
Upper Material
­
Midsole Material
­
Sole Material
4.0 mm Daytona­
Footbed Lining
­
If you know of a good product video that should be here, let us know, and we'll put it up.
If you're looking for gear videos in general, check out our Vimeo and YouTube channels to see the newest gear.