The 9.2mm Fusion Nano 80m Bicolor 2xDry is officially retired.You've found a page of history! The 9.2mm Fusion Nano 80m Bicolor 2xDry is no longer produced by Sterling and it is not available to buy from major online retailers. You can still check out all the specs and claim your ownership.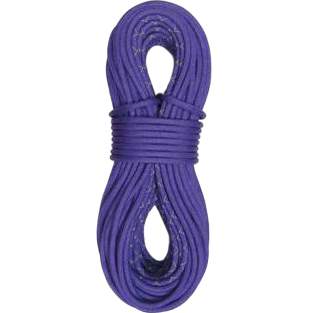 9.2mm Fusion Nano 80m Bicolor 2xDry
Description
The BiColor Nano offers all the same great attributes as the standard with the added comfort of a pattern change in the middle.
This Product is Hard to Find.
We don't know where you can buy this item online in the US. We'll continue to check all the major retailers and will update this page as soon as we find one.
If you know where to find this online in the US, let us know, and we'll add the link.
Award Image
Weight
53.0 g/m
9.347 lbs / 4240 g
Diameter (millimeters)
9.2 mm
Length (meters)
80 m
Rope Type
Single­
UIAA Falls (Single / Half / Twin)
­6 / 00
Dynamic Elongation (Single / Half / Twin)
32.5 % / 0.0 % / 0.0 %
Static Elongation (Single / Half / Twin)
7.5 % / 0.0 % / 0.0 %
Impact Force (Single / Half / Twin)
8.40 kN / 0.00 kN / 0.00 kN
Dry Treatment
Sheath & Core­
Sheath Proportion (%)
­
Sheath Slippage (mm)
­
Type of Middle Mark
Bicolor
Rope End Marker
None
Certification
CE
You may not learn any technical specifications of the Sterling 9.2 Fusion Nano in this video, but it will show you how you can reduce rope drag so much that you can slay your next 5.16a project.
Sterling Rope Fusion Nano
In this video Daila Ojeda talks about Sterling Rope and why she chooses 9.2mm Fusion Nano for climbing.
Sterling Rope Fusion Nano
In this video Enzo Oddo explains why he chooses 9.2mm Fusion Nano of Sterling Rope.
Sterling Rope Fusion Nano, Fusion Ion2, Evolution Velocity
In this video Whitney Boland talks about her life, her struggle against a chronic disease and climbing, she explains why she chooses Fusion Nano, Fusion Ion2 and Evolution Velocity ropes.
Sterling Rope 9.2mm Fusion Nano
In this video Muriel talks about climbing, Sterling Rope and explains why she chooses Fusion Nano.
Sterling 9,2mm Fusion Nano
This video shows Chris Sharma talking about Sterling Ropes and explains why he use Fusion Nano.

I've only got one complaint so far, and that's how kinked the cord was/is. It's taken a long time to work out 262 feet of twists, which gets to be a pain after a while. I'm also a little concerned about the durability, as it's such a skinny line, but so far I have no complaints. If you spend much time in the desert or anywhere with long pitches, or just want a light and long rope for multipitch routes, be sure to give this thing a look.

The sexiest of all ropes, Euros are skinny (less than 9.8mm) and brightly colored (read: pink). These ropes have an amazing strength-to-weight ratio, but tend to be less durable and are not suited for top rope climbing. They are designed for the weight-conscious climber ascending alpine and long, multi-pitch routes, and doing hard redpoint/onsight climbing. I believe the best rope in this category is the Sterling Nano 9.2mm. Sterling has earned a firm reputation for making extremely durable ropes, and even a rope this skinny can withstand some significant abuse. My climbing partner has one that has put in a full season in Zion and is still in great shape. It is rated for use as single rope, meaning it is strong enough to protect huge lead falls on its own, but can also be used in systems using two ropes (ie. half, twin, or double rope systems). This is more common in ice climbing, alpine, and some sketchy or meandering traditional climbs. For the sake of brevity, I will say I rarely use two ropes in this way, because it is messy, and not necessary for most climbing in Zion. Skinny ropes are expensive and made for specific types of climbing. Those looking for a rope they can take on any given climbing day probably want a rope with a larger diameter between 9.8 and 10.2mm, which brings us to…

Despite the thin diameter of the Nano, our testers enjoyed its stiffness-to-flexibility ratio. "Some ropes already feel coreshot when they're brand new," said a diehard skinny-rope user. But not so with the Nano. This rope is only available with a dry treatment and, like all ca. 9mm ropes, it has fairly high dynamic elongation (32.5 percent), meaning you could still drop a long way after the
belay comes tight. Do not toprope with this cord—it is best saved for redpoint or onsight attempts on steep terrain.