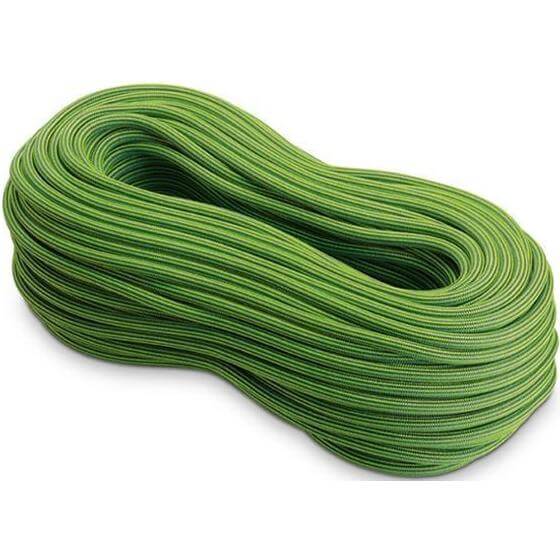 Description
Ultimate lightweight sport climbing rope, aimed to the hardest sport climbs.
During its development were implemented top climber's experiences and latest dynamic rope production technologies. To impregnate, there is used Teflon® fibre protector technology, which creates protecting shell on the whole surface of the rope, increasing the resistance of the sheath and the core.
This Product is Hard to Find.
We don't know where you can buy this item online in the US. We'll continue to check all the major retailers and will update this page as soon as we find one.
If you know where to find this online in the US, let us know, and we'll add the link.
Weight
58.0 g/m
10.229 lbs / 4640 g
Diameter (millimeters)
9.4 mm
Length (meters)
80 m
Rope Type
Single
UIAA Falls (Single / Half / Twin)
­5 / 00
Dynamic Elongation (Single / Half / Twin)
35.0 % / 0.0 % / 0.0 %
Static Elongation (Single / Half / Twin)
8.9 % / 0.0 % / 0.0 %
Impact Force (Single / Half / Twin)
7.00 kN / 0.00 kN / 0.00 kN
Dry Treatment
Sheath & Core­
Sheath Proportion (%)
­
Sheath Slippage (mm)
­
Type of Middle Mark
None
Rope End Marker
None
Certification
­
If you know of a good product video that should be here, let us know, and we'll put it up.
If you're looking for gear videos in general, check out our Vimeo and YouTube channels to see the newest gear.
A pictoral representation of UIAA-101 and EN-892 standards for ropes.
The UIAA equipment standard provides a baseline for equipment performance in a test lab under controlled conditions on new equipment. Although these test conditions are relevant to the conditions encountered climbing, conditions encountered at the crags and the condition of the equipment are equally important. This recommendation from the UIAA member federation The British Mountaineering Council (BMC) provides vital equipment information that is NOT explicitly addressed in the standard, particularly failure modes of the equipment and recommendations for the use, inspection, maintenance, and retirement of equipment.