The 9mm Opposite Triaxiale 100m is officially retired.You've found a page of history! The 9mm Opposite Triaxiale 100m is no longer produced by Millet and it is not available to buy from major online retailers. You can still check out all the specs and claim your ownership.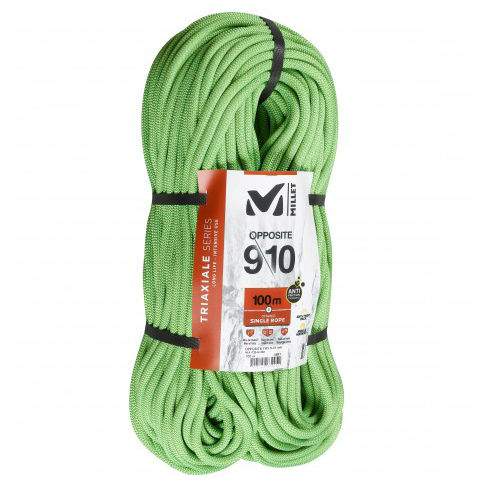 9mm Opposite Triaxiale 100m
Description
Unique know-how defines this rope: 9/10mm variable diameter and TRIAXIALE technology!
CHARACTERISTIC
Designed for two types of sport climbing: training sessions that require ultra-robust ropes, and performance sessions for which slim, fluid ropes are ideal.
The OPPOSITE TRX 9/10 is both these ropes in one! Single rope. TRIAXIALE® braided core.
This Product is Hard to Find.
We don't know where you can buy this item online in the US. We'll continue to check all the major retailers and will update this page as soon as we find one.
If you know where to find this online in the US, let us know, and we'll add the link.
Award Image

Award Image

Weight
56.0 g/m
12.340 lbs / 5600 g
Diameter (millimeters)
9.0 mm
Length (meters)
100 m
Rope Type
Single
UIAA Falls (Single / Half / Twin)
­5 / - / -
Dynamic Elongation (Single / Half / Twin)
36.0 % / - / -
Static Elongation (Single / Half / Twin)
-
Impact Force (Single / Half / Twin)
8.30 kN / - / -
Dry Treatment
None­
Sheath Proportion (%)
­
Sheath Slippage (mm)
­
Type of Middle Mark
Marking
Rope End Marker
None
Certification
CE, EN, UIAA
Features of Opposite 9/10
Long but informative video, talks about all the features of 9/10 Opposite in details.
Features of Millet Triaxiale Rope
No voice explanation but the video shows all the features of Triaxiale rope.