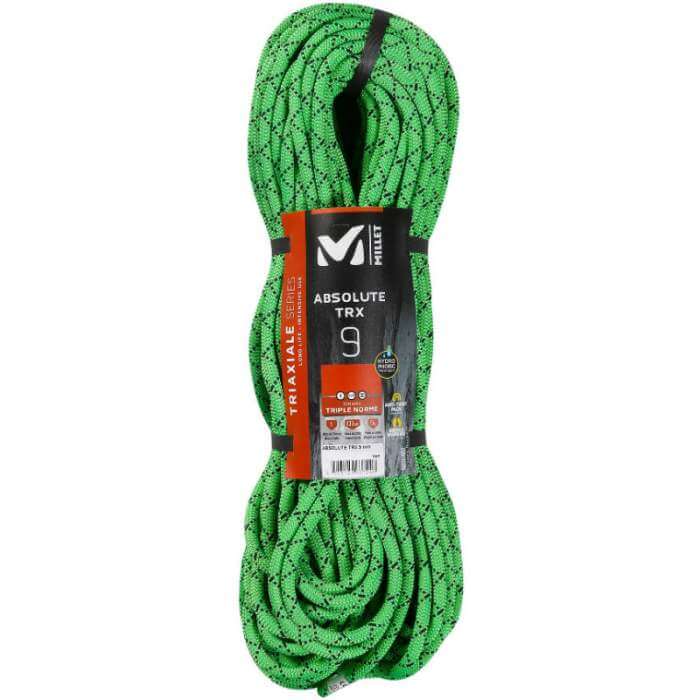 9mm Absolute Triaxiale 200m
Description
This dynamic rope is the business for expert alpinists: optimized weight-wise, it's a dependable product in all circumstances. Little wonder that the Chamonix Guides Company put their lives – and their clients' – in its hands. "It's the benchmark rope for Chamonix's high-mountain guides," confirms Michel Paccalet, ropes product manager, "because they appreciate its expert versatility. You can make progress on glaciers or on arete crossings, and you can rappel with it if you like. But I'd not recommend it for novice climbers – you need to be really proficient in belaying systems." The Absolute comes in Hydrophobic and non-hydrophobic versions; for crag climbing, an Anti-Friction model, with no water-repellent finish, is sufficient. Did you know… what the TRX stands for in this rope's name? "Triaxiale – which is a special, and totally exclusive way of making the rope core," explains Michel Paccalet, Millet's ropes product manager. This manufacturing process requires machines that are able to braid the cores and not just to twist the polyamide threads. "These internal braids vary in number, depending on the final external diameter. We now know that these braids protect the core strands from internal abrasion." Yes, internal – because a rope gradually wears out from the inside, because an alpine rope is essentially thousands of grouped filaments, finer than hair, which are twisted, heat-treated, etc. The Absolute is the quintessential advanced model.
Price is a static conversion from
This Product is Hard to Find.
We don't know where you can buy this item online in the US. We'll continue to check all the major retailers and will update this page as soon as we find one.
If you know where to find this online in the US, let us know, and we'll add the link.
Weight
56.0 g/m
24.691 lbs / 11200 g
Diameter (millimeters)
9.0 mm
Length (meters)
200 m
Rope Type
Single/Half/Twin
UIAA Falls (Single / Half / Twin)
5 falls / 20 falls / 40 falls
Dynamic Elongation (Single / Half / Twin)
36.0 % / 31.0 % / 28.0 %
Static Elongation (Single / Half / Twin)
-
Impact Force (Single / Half / Twin)
8.30 kN / 6.20 kN / 9.40 kN
Dry Treatment
None­
Sheath Proportion (%)
­
Sheath Slippage (mm)
­
Type of Middle Mark
Marking
Rope End Marker
None
RFID / NFC Option

RFID and NCF

This technology can be helpful if you are a gym or professional business where you'd like to track the usage and age of your ropes.

RFID is how items are uniquely identified using radio waves (Radio Frequency Identification). It's for 1-way communication from 10cm to 100m away depending on the frequency. Example: Airport Baggage.

NFC is a subset of RFID that is restrained to close proximity communication typically less than 10cm (Near Field Communication). NFC chips can operate a 2-way signal to exchange information. Example: Apple Pay.

None
Certification
­
If you know of a good product video that should be here, let us know, and we'll put it up.
If you're looking for gear videos in general, check out our Vimeo and YouTube channels to see the newest gear.
A pictoral representation of UIAA-101 and EN-892 standards for ropes.
The UIAA equipment standard provides a baseline for equipment performance in a test lab under controlled conditions on new equipment. Although these test conditions are relevant to the conditions encountered climbing, conditions encountered at the crags and the condition of the equipment are equally important. This recommendation from the UIAA member federation The British Mountaineering Council (BMC) provides vital equipment information that is NOT explicitly addressed in the standard, particularly failure modes of the equipment and recommendations for the use, inspection, maintenance, and retirement of equipment.