The 9.8mm Silver Triaxiale 60m is officially retired.You've found a page of history! The 9.8mm Silver Triaxiale 60m is no longer produced by Millet and it is not available to buy from major online retailers. You can still check out all the specs and claim your ownership.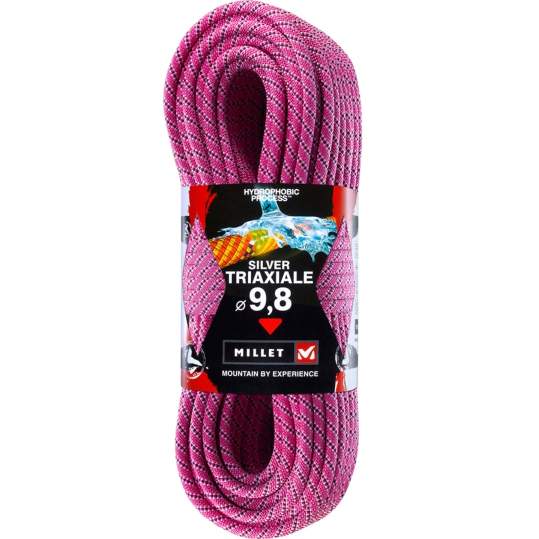 9.8mm Silver Triaxiale 60m
Description
The new, more vivid colours of the SILVER TRIAXIAL ensure this cliffclimbers' rope of choice is even more visible.
This Product is Hard to Find.
We don't know where you can buy this item online in the US. We'll continue to check all the major retailers and will update this page as soon as we find one.
If you know where to find this online in the US, let us know, and we'll add the link.
Weight
63.2 g/m
8.359 lbs / 3792 g
Diameter (millimeters)
9.8 mm
Length (meters)
60 m
Rope Type
Single­
UIAA Falls (Single / Half / Twin)
­6 / 00
Dynamic Elongation (Single / Half / Twin)
31.8 % / 0.0 % / 0.0 %
Static Elongation (Single / Half / Twin)
- / 0.0 % / 0.0 %
Impact Force (Single / Half / Twin)
8.60 kN / 0.00 kN / 0.00 kN
Dry Treatment
None­
Sheath Proportion (%)
­
Sheath Slippage (mm)
­
Type of Middle Mark
None
Rope End Marker
None
Certification
­
Features of Millet Triaxiale Rope
No voice explanation but the video shows all the features of Triaxiale rope.

I go through ropes like shit through a goose—last year I trashed three thin, lightweight ropes in four months—so when I heard that Millet had a model dedicated to longevity and durability, I was eager to test it. I picked up the Silver Triaxiale 9.8 mm in January and put it through the paces—fixing, jugging, toproping, and leading, and four months later the rope is still in great shape. The Triaxiale technology includes a beefier sheath (in contrast to a thinner sheath sometimes used to create smaller-diameter ropes), a stabilized diameter that Millet says won't fatten up over time and a unique braided core that adds extra safety. According to Millet, if your rope cuts over an edge, a single braid can support body weight. Subjectively, the six-fall Silver Triaxiale handles well, snakes smoothly through biners and delivers a nice, soft catch (maximum impact force of 8.5 kN; about average for its diameter). At 63 grams per meter, it's one gram, give or take, heavier or lighter than any rope of equal diameter. The only drawback is the price tag, which is $50 more, on average, than comparable diameter ropes from other companies. Given the fact that this cord has hung in there for months after others kicked the bucket, however, I'd happily bite down and shell out the extra ducats for a rope that lasts.