The 9.8mm Cristal 80m is officially retired.You've found a page of history! The 9.8mm Cristal 80m is no longer produced by Millet and it is not available to buy from major online retailers. You can still check out all the specs and claim your ownership.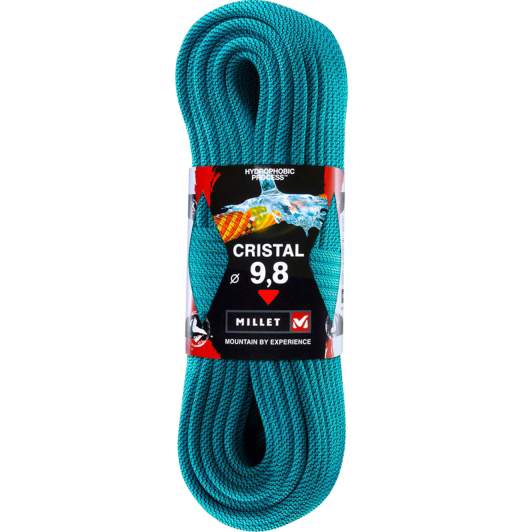 Description
The CRISTAL is designed for sport climbing but is not extreme in profile applications: it is also perfectly suited to all belaying devices.
This Product is Hard to Find.
We don't know where you can buy this item online in the US. We'll continue to check all the major retailers and will update this page as soon as we find one.
If you know where to find this online in the US, let us know, and we'll add the link.
Weight
63.0 g/m
11.111 lbs / 5040 g
Diameter (millimeters)
9.8 mm
Length (meters)
80 m
Rope Type
Single­
UIAA Falls (Single / Half / Twin)
­7 / 00
Dynamic Elongation (Single / Half / Twin)
33.1 % / 0.0 % / 0.0 %
Static Elongation (Single / Half / Twin)
- / 0.0 % / 0.0 %
Impact Force (Single / Half / Twin)
8.60 kN / 0.00 kN / 0.00 kN
Dry Treatment
None­
Sheath Proportion (%)
­
Sheath Slippage (mm)
­
Type of Middle Mark
None
Rope End Marker
None
Certification
­

CABLED TO THE CORE
The Cristal's cabled-core technology makes for a light cord offering exceptionally soft, lowimpact- force catches.
HYDROPHOBIA
Millet's Hydrophobic Process individually treats each fiber before rope manufacture begins. The result is a water- and abrasion-resistant sheath and core (approximately five percent water retention). Lab tests show that the Hydrophobic treatment holds up well under wear and tear, too.
NO TWIST-O
Millet's unique rope-folding method prevents those maddening twists that can form when you first uncoil a rope — it's ready to rock right out of the packaging.