The 9.8mm Tusk 60m Dry is officially retired.You've found a page of history! The 9.8mm Tusk 60m Dry is no longer produced by Mammut and it is not available to buy from major online retailers. You can still check out all the specs and claim your ownership.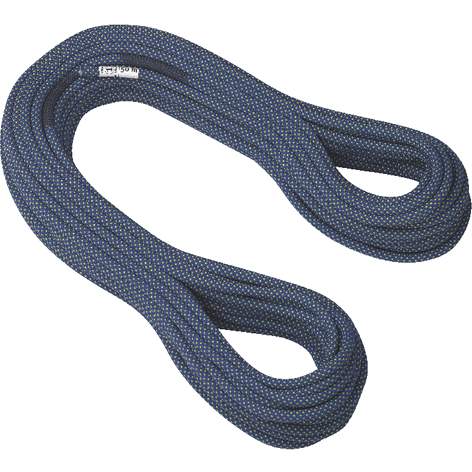 Description
The Mammut rope finishing processe (superDRY™) gives the rope durability and comfortable handling. Thanks to this and the relatively small diameter of 9,8 mm, the Tusk has a very wide range of uses
This Product is Hard to Find.
We don't know where you can buy this item online in the US. We'll continue to check all the major retailers and will update this page as soon as we find one.
If you know where to find this online in the US, let us know, and we'll add the link.
Weight
64.0 g/m
8.465 lbs / 3840 g
Diameter (millimeters)
9.8 mm
Length (meters)
60 m
Rope Type
Single­
UIAA Falls (Single / Half / Twin)
­9 / - / -
Dynamic Elongation (Single / Half / Twin)
30.0 % / - / -
Static Elongation (Single / Half / Twin)
6.8 % / - / -
Impact Force (Single / Half / Twin)
8.80 kN / - / -
Dry Treatment
Sheath­
Sheath Proportion (%)
38.0 %
Sheath Slippage (mm)
0 mm
Type of Middle Mark
None
Rope End Marker
None
Certification
CE, EN, UIAA
This video shows all the features of Mammut ropes.

A rope is a rope, and I'm still not picky about which rope I use while climbing. As long as I can belay easy, clip carabiners quickly and not die when I fall, then the rope is good in my book. So I certainly can recommend the Mammut Tusk for anyone looking for a good, all-around climbing rope for day trips on local crags.

Good "workhorse ropes" are ones those that can take a beating but are also reasonably light for long approaches and use on big wall climbs. There are many great ropes in this category, but my favorites are the Mammut Tusk 9.8mm, the Sterling Velocity 9.8mm, and the Maxim Glider 9.9mm. These ropes have displayed great durability, have a nice "hand" (supple, smooth), and have kept me alive in many uncertain circumstances. Ropes with a diameter less than 10mm feature good balance of weight and durability, nice movement through belay/rappel devices, and a tendency of NOT breaking the bank. These ropes are most appropriate for lead climbing, but are also good for top roping so long as they are not moving across a lot of sharp edges. For people that are primarily top-roping, a thicker rope is more appropriate because there is simply more sheath to protect the core from abrasion.

The Tusk has been a consistent and steady performer. Its 9.8 mm diameter is about as thin as I'm comfortable with for all of my falling and hang-dogging. The rope's medium rigidity makes it just average at clipping to carabiners; yet also seems to yield a fluffy-soft catch.
Lap Coiling rope-packaging machine means no factory kinks in cord.
SuperDry treatment: A coating to both sheath and core, this gives a smooth feed and added protection. A bit slippery at first.
Comes in two colors: yellow and lime green. The yellow one, which I tested, seems to pick up a lot of dirt and now looks black.
9.8 mm. A good combination of lightness (63 g/m) and durability (6-7 UIAA falls). The speed that the sheath has frayed from normal wear has been just average.
Recommended uses: sport climbing, trad climbing, alpine rock climbing.