The 9.6mm Climax Pappel 70m is officially retired.You've found a page of history! The 9.6mm Climax Pappel 70m is no longer produced by Mammut and it is not available to buy from major online retailers. You can still check out all the specs and claim your ownership.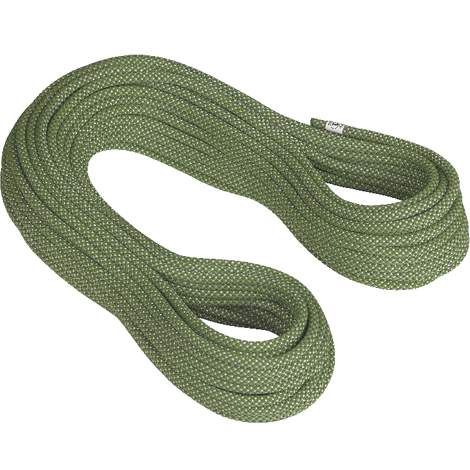 Description
Light sports climbing rope with excellent price/performance ratio.
This Product is Hard to Find.
We don't know where you can buy this item online in the US. We'll continue to check all the major retailers and will update this page as soon as we find one.
If you know where to find this online in the US, let us know, and we'll add the link.
Weight
69.0 g/m
10.648 lbs / 4830 g
Diameter (millimeters)
9.6 mm
Length (meters)
70 m
Rope Type
Single­
UIAA Falls (Single / Half / Twin)
­5 / 00
Dynamic Elongation (Single / Half / Twin)
29.0 % / 0.0 % / 0.0 %
Static Elongation (Single / Half / Twin)
7.0 % / 0.0 % / 0.0 %
Impact Force (Single / Half / Twin)
9.30 kN / 0.00 kN / 0.00 kN
Dry Treatment
None­
Sheath Proportion (%)
38.0 %
Sheath Slippage (mm)
0 mm
Type of Middle Mark
None
Rope End Marker
None
Certification
UIAA

The Climax is not dry treated so you're limited to climbing with it in the summer and it isn't the lightest 9.6mm rope on the market, roughly 8 pounds. However, the extra weight serves as extra durability and you'd be really hard-pressed to notice the weight difference from some of its other 9.6mm competitors. The thing that knocks the sheath off from other ropes it the price tag, retailing for roughly $169.00 for a 60 meter length, you're not going to find a cheaper or better rope in this diameter range, unless it's on sale.
If you're looking for a durable rope without forking out the extra dinero the Climax is the best choice in my opinion. You'll find it in a 60 meter length and a 70 meter length.

The Climax doesn't seem prone to kinking (at all), thanks to Mammut's Lap Coiled technology that packages ropes sans tangles. Knots tie and untie well. It handles well through a Grigri and clips easily to biners. Plus, I think it gives a pretty soft catch.
The Climax isn't the lightest rope around, weighing 64 grams/meter, nor is it the sexiest. But it's just what I want in a partner: cheap and resilient enough to put up with me and my never-ending failures.