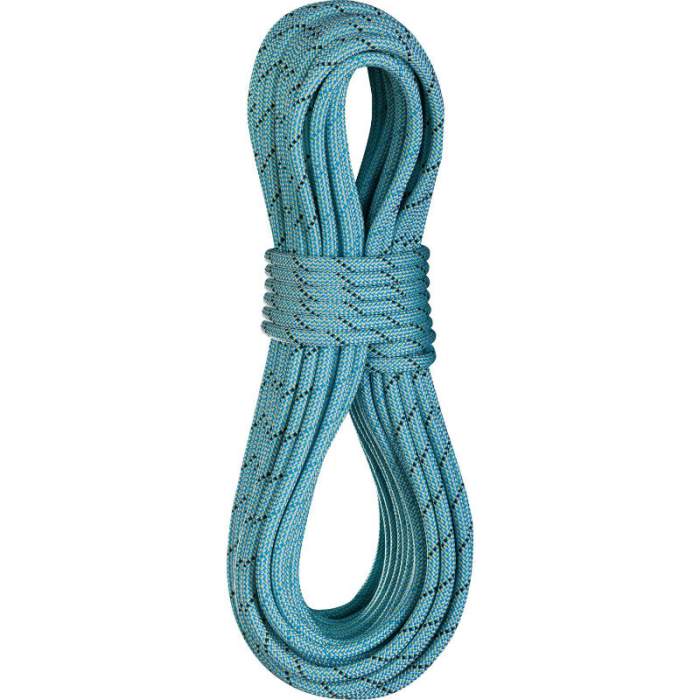 9.7mm Anniversary Pro Bicolor 70m 2xDry
Description
We've produced this special edition rope to celebrate our 150th anniversary. It represents 150 years of ropemaking experience. And it comes with a complimentary rope bag.
Pro Dry for outstanding dirt and water resistance.
Thermo Shield treatment for perfect handling.
DuoTec for permanent middle marking.
Caddy light rope bag included.
When you click a link below and then checkout online, no matter what you buy (climbing gear or not), we get a small commission that helps us keep this site up-to-date. Thanks!
If you can't see any buying options above, try turning off all ad-blocking plugins.
Weight
61.0 g/m
9.414 lbs / 4270 g
Diameter (millimeters)
9.7 mm
Length (meters)
70 m
Rope Type
Single
UIAA Falls (Single / Half / Twin)
­9 / 00
Dynamic Elongation (Single / Half / Twin)
33.0 % / 0.0 % / 0.0 %
Static Elongation (Single / Half / Twin)
8.1 % / 0.0 % / 0.0 %
Impact Force (Single / Half / Twin)
8.90 kN / 0.00 kN / 0.00 kN
Dry Treatment
Sheath & Core­
Sheath Proportion (%)
40.0 %
Sheath Slippage (mm)
0 mm
Type of Middle Mark
Bicolor
Marking
Rope End Marker
None
Certification
UIAA
If you know of a good product video that should be here, let us know, and we'll put it up.
If you're looking for gear videos in general, check out our Vimeo and YouTube channels to see the newest gear.
A pictoral representation of UIAA-101 and EN-892 standards for ropes.
The UIAA equipment standard provides a baseline for equipment performance in a test lab under controlled conditions on new equipment. Although these test conditions are relevant to the conditions encountered climbing, conditions encountered at the crags and the condition of the equipment are equally important. This recommendation from the UIAA member federation The British Mountaineering Council (BMC) provides vital equipment information that is NOT explicitly addressed in the standard, particularly failure modes of the equipment and recommendations for the use, inspection, maintenance, and retirement of equipment.