The 8mm Merlin 50m 2xDry is officially retired.You've found a page of history! The 8mm Merlin 50m 2xDry is no longer produced by Edelrid and it is not available to buy from major online retailers. You can still check out all the specs and claim your ownership.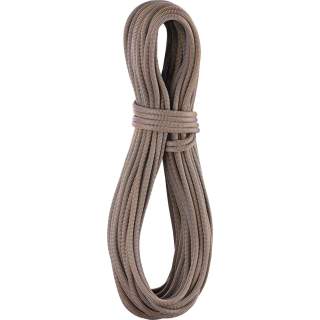 Description
For those who value minimum diameter and weight with a maximum degree of strength and safety. At 44 g per meter, you still have comfortable handling while belaying and with the EDELRID Dry Shield treatment you have a half rope of unrivaled quality and performance for the mountains.
When you click a link below and then checkout online, no matter what you buy (climbing gear or not), we get a small commission that helps us keep this site up-to-date. Thanks!
If you can't see any buying options above, try turning off all ad-blocking plugins.
Weight
44.0 g/m
4.850 lbs / 2200 g
Diameter (millimeters)
8.0 mm
Length (meters)
50 m
Rope Type
Half (Double)­
UIAA Falls (Single / Half / Twin)
- / 13 / 0
Dynamic Elongation (Single / Half / Twin)
- / 30.0 % / 0.0 %
Static Elongation (Single / Half / Twin)
- / 9.6 % / 0.0 %
Impact Force (Single / Half / Twin)
- / 6.70 kN / 0.00 kN
Dry Treatment
Sheath & Core­
Sheath Proportion (%)
33.0 %
Sheath Slippage (mm)
0 mm
Type of Middle Mark
None
Rope End Marker
None
Certification
CE, EN, UIAA
How to use Edelrid rope, safety, storage, transport, care, lifespan and replacement with instructional pictures.