The 10.3mm Osprey 100m is officially retired.You've found a page of history! The 10.3mm Osprey 100m is no longer produced by Edelrid and it is not available to buy from major online retailers. You can still check out all the specs and claim your ownership.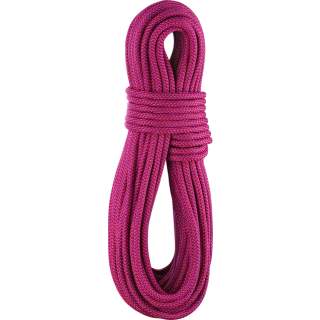 Description
For crag climbing there isn't a better rope. The particularly tight Sports Braid sheath construction in combination with slightly thicker yarns has given the Osprey an incredibly tough and durable sheath. This is why even after many falls the Osprey looks almost as good as new. The special double braid Sports Braid construction and Thermo Shield treatment help the Osprey pass the early UIAA sharp edge test 108*.
This Product is Hard to Find.
We don't know where you can buy this item online in the US. We'll continue to check all the major retailers and will update this page as soon as we find one.
If you know where to find this online in the US, let us know, and we'll add the link.
Weight
68.0 g/m
14.990 lbs / 6800 g
Diameter (millimeters)
10.3 mm
Length (meters)
100 m
Rope Type
Single­
UIAA Falls (Single / Half / Twin)
­9 / 00
Dynamic Elongation (Single / Half / Twin)
34.0 % / 0.0 % / 0.0 %
Static Elongation (Single / Half / Twin)
9.8 % / 0.0 % / 0.0 %
Impact Force (Single / Half / Twin)
8.70 kN / 0.00 kN / 0.00 kN
Dry Treatment
None­
Sheath Proportion (%)
41.0 %
Sheath Slippage (mm)
0 mm
Type of Middle Mark
None
Rope End Marker
None
Certification
­
How to use Edelrid rope, safety, storage, transport, care, lifespan and replacement with instructional pictures.