The Xenon 10cm is officially retired.You've found a page of history! The Xenon 10cm is no longer produced by Wild Country and it is not available to buy from major online retailers. You can still check out all the specs and claim your ownership.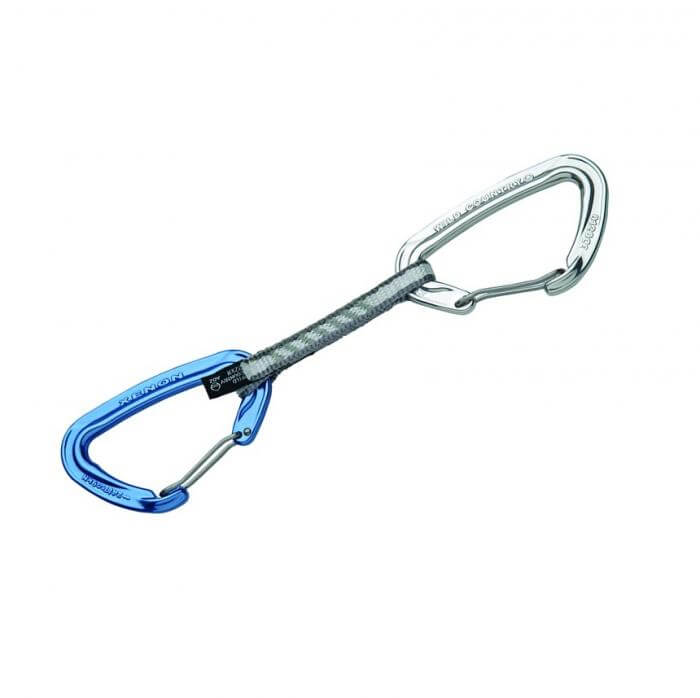 Description
The Xenon has a classic shape and feel yet weight is shaved by slimming the back to create a thinner, smoother biner. It also has a very thin nose profile, great for racking and great for tight clips or old bolts.
The Xenon QD comes in three lengths, 10cm ~ 4" / 15cm ~ 6" / 20cm ~ 8" and is on Wild Country's exclusive 10mm Dyneema making it brilliantly light.
So at only 83 grams for a 10cm draw it's a fantastic choice for sports, trad and on-sighting, weighing very little yet fitting into the hand perfectly as only a full size biner can. Also all Xenon draws also come with Wild Country new Tadpole which is our little rubber ring which holds the bottom biner in place.
This Product is Hard to Find.
We don't know where you can buy this item online in the US. We'll continue to check all the major retailers and will update this page as soon as we find one.
If you know where to find this online in the US, let us know, and we'll add the link.
If you know of a good product video that should be here, let us know, and we'll put it up.
If you're looking for gear videos in general, check out our Vimeo and YouTube channels to see the newest gear.

The Xenon looks sharp, works great and the draw price is a bargain. For size, weight and strength, it is close to the DMM Phantom, but costs a couple of bucks less. The tapered, bullet-like nose design can wiggle through tight spots better than the other biners, a nice touch for clipping tat messes, bashed-over pins and old-school bolt hangers with tiny clip holes.