The Nitro 10cm is officially retired.You've found a page of history! The Nitro 10cm is no longer produced by Wild Country and it is not available to buy from major online retailers. You can still check out all the specs and claim your ownership.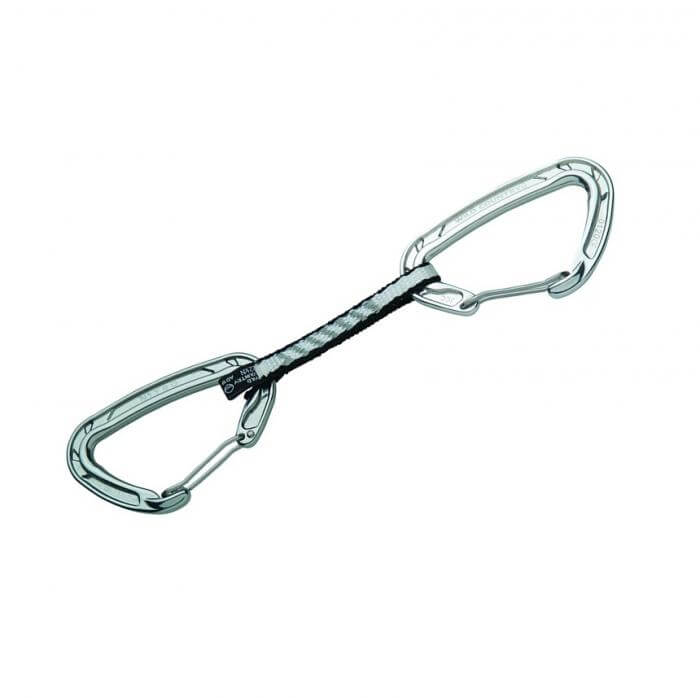 Description
The Nitro is a beauty - a full size lightweight biner with a superb feel and pitch perfect performance.
The Helium is an exceptional biner…everyone tells us so! It feels great in the hand, clips superbly, and is still the world's lightest true full size biner. In fact maybe the only criticism is that it's incredible patented 'no-hook' nose makes it's production an expensive business.
So the Nitro is a solution to that, it's a Helium with a skinny hooded nose that's easier to produce and comes at a way better price. And at only 35 grams it's a real contender on the shelf and on the rack.
The Nitro comes in three lengths of QDs that come on 10mm dyneema with Wild Country Tadpole 'o' ring to hold the biners in place. There are also great value sets of Biner 5 packs and Quickdraw 5 packs available.
When you click a link below and then checkout online, no matter what you buy (climbing gear or not), we get a small commission that helps us keep this site up-to-date. Thanks!
If you can't see any buying options above, try turning off all ad-blocking plugins.
Wild Country Nitro Review

The Wild Country Nitro uses a slightly bent wire gate that is one of the easiest to clip. It was a solid performer in nearly all our tests. It is one of the easier carabiners to handle due to it's friendly size and featured spine that makes it easy to grip. Yet despite its generous size, it is still pretty light.