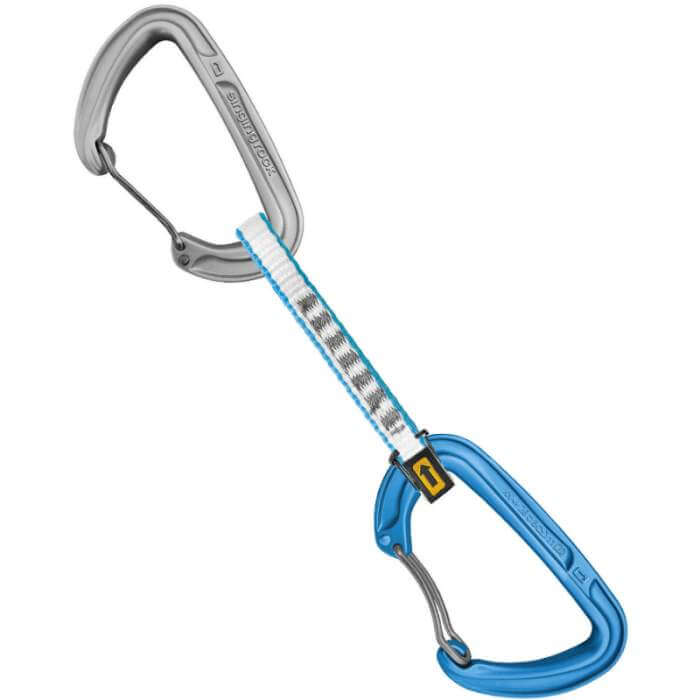 Description
The lightest full-size quickdraw engineered to be equally used for trad, alpine and ice climbing.
Full-size hot forged top and bottom carabiners with the wire gates.
Wire gates eliminate gate flutter and freezing up in winter conditions.
Hooded nose for smooth clipping and unclipping.
Bottom carabiner equipped with a rubber O-ring to hold the carabiner in the correct position and to facilitate clipping the rope.
Each carabiner is individually tested for the strength 10 kN.
This Product is Hard to Find.
We don't know where you can buy this item online in the US. We'll continue to check all the major retailers and will update this page as soon as we find one.
If you know where to find this online in the US, let us know, and we'll add the link.
| | |
| --- | --- |
| Weight | 83 g |
| Dogbone Size | 11 cm long, 11 mm wide |
| Dogbone Material | Dyneema­ |
| Dogbone Strength (kN) | 22 kN |
| Top Carabiner | Colt Wire Straight - |
| Bottom Carabiner | Colt Wire Bent - |
Singing Rock Colt Carabiner
How to use Singing Rock quickdraw, storage and maintenance with instructional pictures.