The Spirit Express 12cm 2018 is technically retired but it's still sold online.The Spirit Express 12cm 2018 is no longer produced by Petzl. We're showing it as "available" on WeighMyRack because you can still find it at trustworthy online retailers.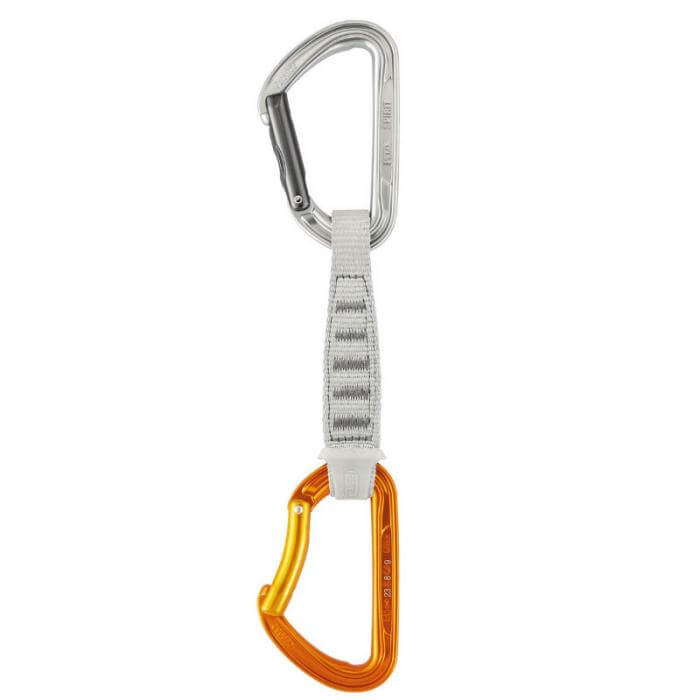 Description
The SPIRIT EXPRESS quickdraw offers better clipping for sport climbing. Weighing less than 100 g, it is versatile and moves easily from the crag to long sport routes. It has a straight-gate SPIRIT carabiner on top and a bent-gate version on bottom. The top carabiner, equipped with the Keylock system and a special nose shape, facilitates clipping and unclipping the anchor. The bottom carabiner, with bent gate and Keylock system, facilitates clipping the rope. The EXPRESS sling is equipped with a STRING protector to hold the lower carabiner in position. Its ergonomic shape offers excellent grip when working a route.
SPIRIT carabiners:
- H-shaped profile offers an improved strength/weight ratio
- wider contact surfaces for better rope glide and reduced wear on the carabiner
- SPIRIT straight gate (upper part): facilitates clipping and unclipping, thanks to the Keylock system and the shape of its nose
- SPIRIT bent gate (lower part): facilitates clipping the rope, thanks to the Keylock system
EXPRESS sling:
- ergonomic shape for excellent grip
- lower end equipped with STRING to hold the carabiner in position and protect the webbing from wear
When you click a link below and then checkout online, no matter what you buy (climbing gear or not), we get a small commission that helps us keep this site up-to-date. Thanks!
If you can't see any buying options above, try turning off all ad-blocking plugins.
Award Image

| | |
| --- | --- |
| Weight | 93 g |
| Dogbone Size | 12 cm long, 24 mm wide |
| Dogbone Material | Polyester­ |
| Dogbone Strength (kN) | 22 kN |
| Top Carabiner | Spirit Straight - |
| Bottom Carabiner | Spirit Bent - |
Spirit Express Quickdraw Review by Outdoor Gear Lab
Watch a tour of Petzl's facilities as they explain all the testing involved
Warning: This video is dubbed in English. If you're getting antsy, skip to section 7:40-8:15 for one of the most interesting parts, where they show a hardware specific camera inspection.