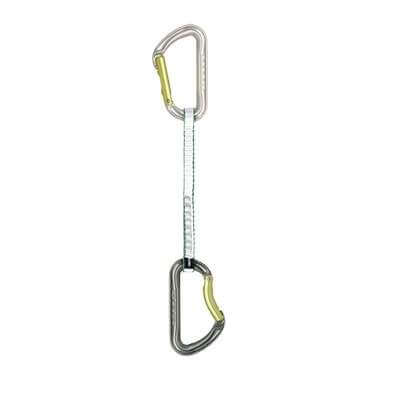 This Product is Hard to Find.
We don't know where you can buy this item online in the US. We'll continue to check all the major retailers and will update this page as soon as we find one.
If you know where to find this online in the US, let us know, and we'll add the link.
| | |
| --- | --- |
| Weight | ­ |
| Dogbone Size | 18 cm long, 11 mm wide |
| Dogbone Material | Dyneema­ |
| Dogbone Strength (kN) | 22 kN |
| Top Carabiner | Shadow - |
| Bottom Carabiner | Shadow Bent - |
If you know of a good product video that should be here, let us know, and we'll put it up.
If you're looking for gear videos in general, check out our Vimeo and YouTube channels to see the newest gear.

If weight is an issue you could try the Shadow quickdraw, these performed almost as well as the Alpha Sport. They had the same sewn sling and the same ergonomic bent gate for clipping. They just weren't as big. But if you're looking for a lighter weight, all round set of quickdraws that would be suitable for all climbing situations then these would fit the bill.

The Shadow crossbreed is able to navigate the boundaries of light weight, crazy strength and full size. The end result is less clutter on your rack and less weight in your pack. If they weren't so darned expensive, they'd deserve five stars.
Pros: Hot forged, and therefore strong but light; full-sized 'biners; key lock and recess features on plain gate make for easy clipping; come in two lengths.
Cons: Expensive.
How to use DMM Quickdraw, Maintenance and Servicing, warnings and lifespan with instructional pictures.