The Ceres 16cm is officially retired.You've found a page of history! The Ceres 16cm is no longer produced by Cypher and it is not available to buy from major online retailers. You can still check out all the specs and claim your ownership.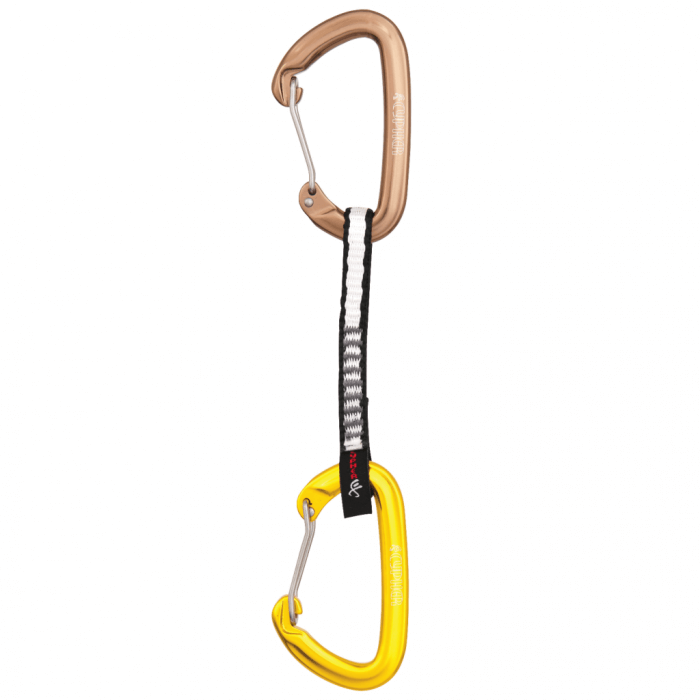 Description
A lightweight and compact quickdraw featuring wire gate Ceres on both ends. Longer lengths available to reduce rope drag on long sport routes. Use longer draws on traditional protection to reduce walking and help keep your gear oriented in the potential direction of fall.
6 pack comes with a locking carabiner.
This Product is Hard to Find.
We don't know where you can buy this item online in the US. We'll continue to check all the major retailers and will update this page as soon as we find one.
If you know where to find this online in the US, let us know, and we'll add the link.
| | |
| --- | --- |
| Weight | 74 g |
| Dogbone Size | 16 cm long, 10 mm wide |
| Dogbone Material | Dyneema­ |
| Dogbone Strength (kN) | 22 kN |
| Top Carabiner | Ceres Wire - |
| Bottom Carabiner | Ceres Wire - |
If you know of a good product video that should be here, let us know, and we'll put it up.
If you're looking for gear videos in general, check out our Vimeo and YouTube channels to see the newest gear.