The Photon Express Nylon 11cm is technically retired but it's still sold online.The Photon Express Nylon 11cm is no longer produced by CAMP. We're showing it as "available" on WeighMyRack because you can still find it at trustworthy online retailers.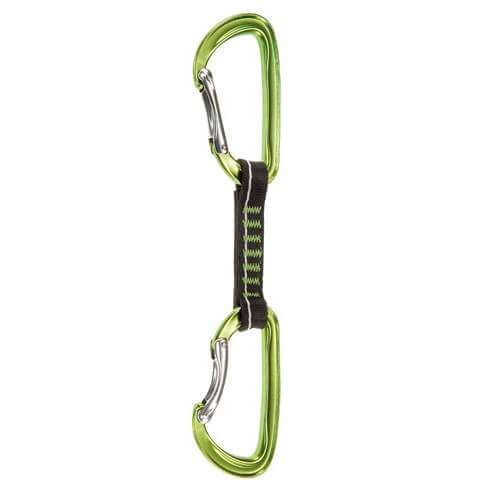 Photon Express Nylon 11cm
Description
• New for 2011
• Rock Climbing
• The ultimate quickdraw for overhanging sport routes
• Equipped with a straight gate for bolts and a bent gate biner for the rope
The CAMP Photon Express is Ready for the red point. The nylon dogbones are stiff enough to keep the biners from twisting and the keylocking Photon carabiners are optimized for smooth clipping and easy cleaning.
When you click a link below and then checkout online, no matter what you buy (climbing gear or not), we get a small commission that helps us keep this site up-to-date. Thanks!
If you can't see any buying options above, try turning off all ad-blocking plugins.
| | |
| --- | --- |
| Weight | 82 g |
| Dogbone Size | 11 cm long, 16 mm wide |
| Dogbone Material | Nylon / Polyamide­ |
| Dogbone Strength (kN) | 22 kN |
| Top Carabiner | Photon Straight 2016 - |
| Bottom Carabiner | Photon Bent 2016 - |
CAMP Photon Carabiner Overview
In addition to learning a bit about the Photon you get to see a bit of the Italian facilities.