The Mach Express 60cm is officially retired.You've found a page of history! The Mach Express 60cm is no longer produced by CAMP and it is not available to buy from major online retailers. You can still check out all the specs and claim your ownership.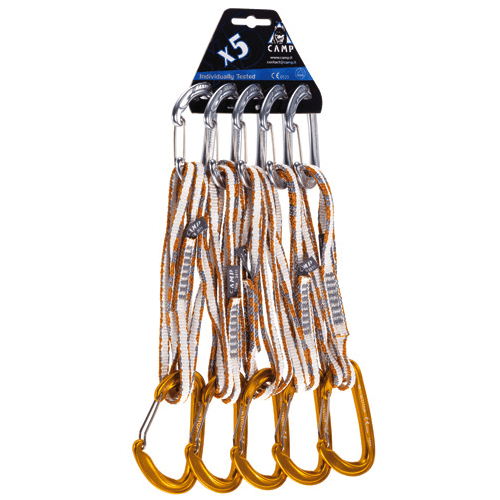 Description
ONLY AVAILABLE IN A 5-PACK!
• New for 2011
• Multi-pitch Climbing
• Equipped with the Nano 23 for gear and the full-size Photon Wire for the rope
• 8 mm Dyneema® slings in 11 and 20 cm lengths
A good draw for long routes should be:
Light – they are being carried a long way
Compact – sometimes you need to carry a lot of them
Versatile – you never know what kind of mank you might be clipping
Functional – easy to use even when tired
The CAMP Mach Express Dyneema has it all. A superlight 8mm Dyneema® sling connects the lightest carabiner in the world to the new superlight, full-size Photon Wire. The Nano 23 is great for slings and chains and the Photon Wire makes for easy clipping. Thin Dyneema® slings are a great choice for alpine draws because not only are they light, but they do not absorb water so they won't get soggy in wet conditions or freeze up.
When you click a link below and then checkout online, no matter what you buy (climbing gear or not), we get a small commission that helps us keep this site up-to-date. Thanks!
If you can't see any buying options above, try turning off all ad-blocking plugins.
| | |
| --- | --- |
| Weight | 60 g |
| Dogbone Size | 60 cm long, 8 mm wide |
| Dogbone Material | Dyneema­ |
| Dogbone Strength (kN) | 22 kN |
| Top Carabiner | Nano 23 - |
| Bottom Carabiner | Photon Wire Bent - |
If you know of a good product video that should be here, let us know, and we'll put it up.
If you're looking for gear videos in general, check out our Vimeo and YouTube channels to see the newest gear.