The Livewire 12cm 2013 is officially retired.You've found a page of history! The Livewire 12cm 2013 is no longer produced by Black Diamond and it is not available to buy from major online retailers. You can still check out all the specs and claim your ownership.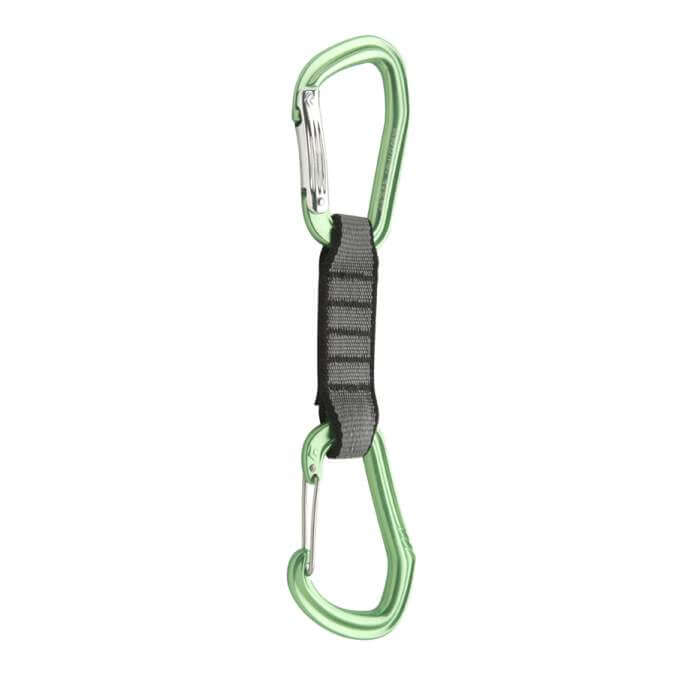 Description
Black Diamond's deluxe sport climbing draw, the lightweight LiveWire Quickdraw is geometrically optimized for clipping bolts with a keylock Dynotron carabiner on top and a rope-friendly LiveWire wiregate carabiner on the bottom. Both carabiners are hot-forged with the shapes and details needed for the demanding clips of modern sport climbing, and are equipped with a 12-cm long Vari-width dogbone quickdraw with the Straitjacket System.
When you click a link below and then checkout online, no matter what you buy (climbing gear or not), we get a small commission that helps us keep this site up-to-date. Thanks!
If you can't see any buying options above, try turning off all ad-blocking plugins.
| | |
| --- | --- |
| Weight | 106 g |
| Dogbone Size | 12 cm long, 18 mm wide |
| Dogbone Material | Nylon / Polyamide­ |
| Dogbone Strength (kN) | 22 kN |
| Top Carabiner | Dynotron - |
| Bottom Carabiner | Livewire 2013 - |
Features of Livewire Quickdraw

Still, if you clip a lot of bolts, you may find it worth the investment, especially if you are looking to replace some worn and aging draws. There is no question in my mind that this is simply the finest quickdraw you can find on the market today. Sorry Petzl

Finally, a quickdraw built for actual, real-world sport climbing! The Black Diamond LiveWire is a snazzy green quickdraw that has quickly become my favorite way to connect rope to rock.
The LiveWire is equipped with a beefy, wide nylon dogbone (sling) that fits right into my hand, and is easy to grab. This was my favorite feature, as it made my favorite part of sport climbing, grabbing draws, easier.

I would have given the LiveWire the Alpinist Mountain Standards award, but one of my Dynotrons has become very sticky—albeit after extensive use—and won't shut on its own anymore. I am not sure how common this is, but discovering this problem from an otherwise solid product was a little disappointing.
Pros: Very easy to clip, even with gloved hands; easy cleaning keylock avoids snagging.
Cons: Potentially sticky gates on the Dynotron biners.
How to use Carabiners and Quickdraws, warnings, inspection, care and maintenence with instructional pictures.