The HotWire 12cm is technically retired but it's still sold online.The HotWire 12cm is no longer produced by Black Diamond. We're showing it as "available" on WeighMyRack because you can still find it at trustworthy online retailers.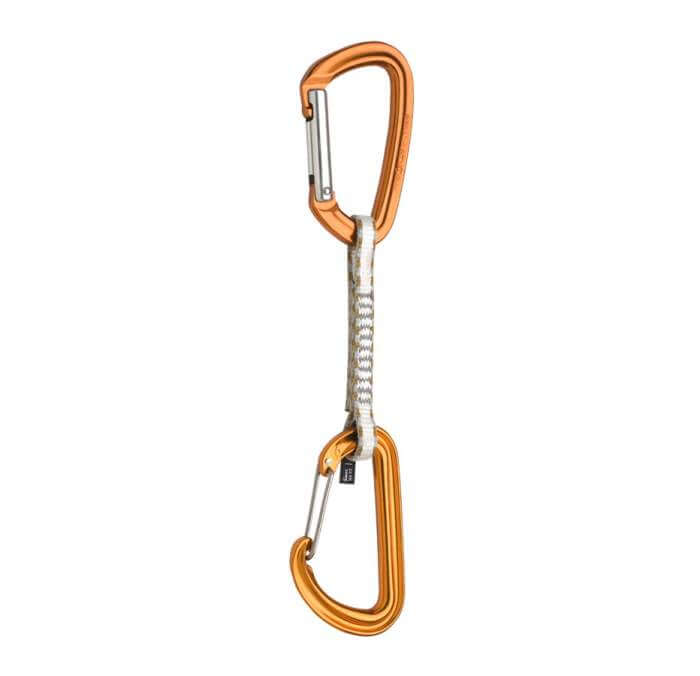 Description
We connected a hot-forged Nitron straight-gate biner and a hot-forged HotWire carabiner to create the light, versatile and smooth clipping Black Diamond HotWire Quickdraw. The snag-free keylock Nitron takes the hassle out of cleaning routes, and the HotWire's large rope-bearing surface and flat gate-to-rope interface make for smooth clipping in any climbing application. The light, durable 14 mm Dynex™ dogbone also features a Straitjacket insert to keep the bottom biner in the optimal clipping position.
When you click a link below and then checkout online, no matter what you buy (climbing gear or not), we get a small commission that helps us keep this site up-to-date. Thanks!
If you can't see any buying options above, try turning off all ad-blocking plugins.
| | |
| --- | --- |
| Weight | 91 g |
| Dogbone Size | 12 cm long, 14 mm wide |
| Dogbone Material | Dynex­ |
| Dogbone Strength (kN) | 22 kN |
| Top Carabiner | Nitron Straight - |
| Bottom Carabiner | Hotwire - |

If you are looking for a one-size fits all draw then look no further. The Black Diamond HotWire is great for both sport and traditional climbing, and won't set you back as much as some of the more expensive hot-forged draws out there. If you are confused by the many permutations on a quickdraw that Black Diamond makes, know that you can settle on the HotWire and you won't be disappointed.

The new HotWire is in our humble opinion the best BD draw for all-around climbing. It's got a Positron keylock solid gate biner on the bolt end for snag-free cleaning, a non-icing, non-lashing HotWire wire gate biner on the rope end. A generous basket will take even our fat German sausage fingers with a rope attached. The price is a buck or two more than the lower-end non-keylock QuickWire and non-wiregate Quicksilver models, but worth it when the going gets tough and the tough get tired.
How to use Carabiners and Quickdraws, warnings, inspection, care and maintenence with instructional pictures.