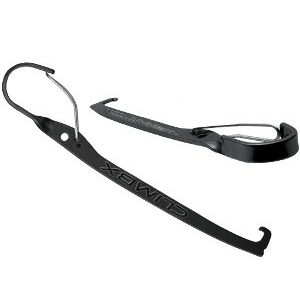 Description
Our hot-forged steel X-Tractor Nut Tool is designed to bust out fused nuts, and awkwardly jammed cams. The tapered tip allows you to work in the tiniest crevices, while the twisted handle offers maximum comfort when brute force or precise tooling is required. The wire gate clip pops open micro brews, and secures the X-Tractor to your gear loops, saving you weight and an additonal carabiner. Pirate that booty where others have failed with the X-Tractor Nut Tool.
The X-Tractor Nut Keeper ensures that this piece will stick around. So go ahead and jam or pry away without worries.
When you click a link below and then checkout online, no matter what you buy (climbing gear or not), we get a small commission that helps us keep this site up-to-date. Thanks!
If you can't see any buying options above, try turning off all ad-blocking plugins.
| | |
| --- | --- |
| Weight (grams) | 60 g |
| Wiregate Clip | Yes |
| Palm Protector | Yes |
| Length (cm) | 20.0 cm |
| Leash | No |
| Certification | ­ |
If you know of a good product video that should be here, let us know, and we'll put it up.
If you're looking for gear videos in general, check out our Vimeo and YouTube channels to see the newest gear.