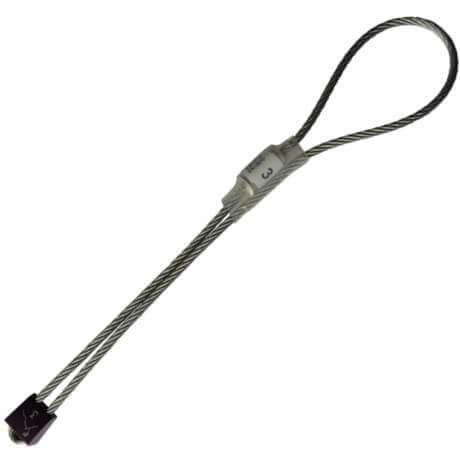 Description
The Wedgemount nuts are made of 6061-T6 aluminum alloy for maximum light weight and strength and they have a galvanized steel cable for resistance to corrosion. They feature colour-coded anodization and numbering for easy visual identification.
The Wedgemount nuts have a transverse tapered shape that allows for multiple placement options. With their classic concave and convex shape they will cam securely into placements when loaded.
Price is a static conversion from
When you click a link below and then checkout online, no matter what you buy (climbing gear or not), we get a small commission that helps us keep this site up-to-date. Thanks!
If you can't see any buying options above, try turning off all ad-blocking plugins.
Weight (grams / ounces)
12 g / 0.42 oz
Size
3 full size (full strength)
Colors as a Nut Set
Multi
Strength (kilonewtons)
5 kN
Color
Purple
Offset
No offset
Range (inches / millimeters)
0.26 in - 0.48 in
6.50 mm - 12.20 mm
Material(s)
Main Material: 6061-T6 Aluminum Alloy
Wire Material: Galvanized Steel Cable
Certification
CE, EN
If you know of a good product video that should be here, let us know, and we'll put it up.
If you're looking for gear videos in general, check out our Vimeo and YouTube channels to see the newest gear.
Instruction for use, storage, maintenance and inspection.
The UIAA equipment standard provides a baseline for equipment performance in a test lab under controlled conditions on new equipment. Although these test conditions are relevant to the conditions encountered climbing, conditions encountered at the crags and the condition of the equipment are equally important. This recommendation from the UIAA member federation The British Mountaineering Council (BMC) provides vital equipment information that is NOT explicitly addressed in the standard, particularly failure modes of the equipment and recommendations for the use, inspection, maintenance, and retirement of equipment.
A pictoral representation of the UIAA-124 and EN-12270 standards for chocks (which includes nuts and hexes).