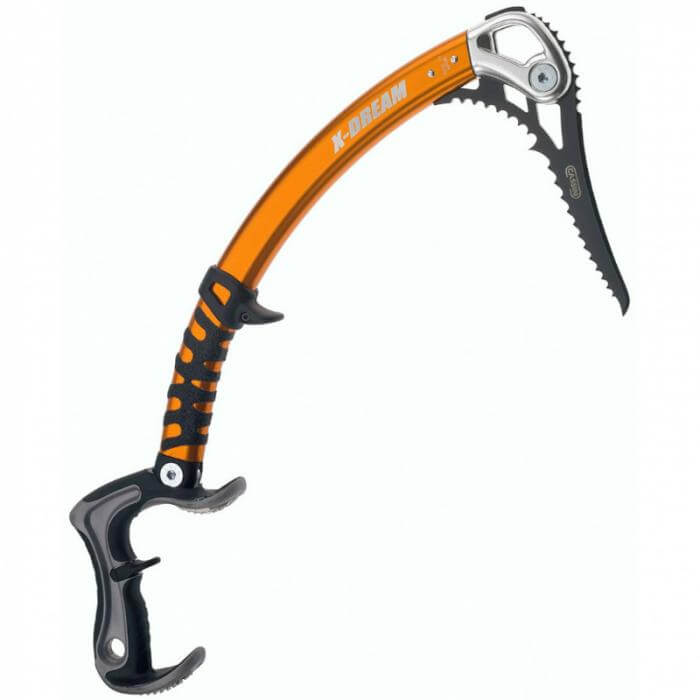 Description
Hyperlight, perfectly balanced, fully featured tool for technical dry, mixed and ice climbing.
Ergonomic handle with patented adjustment system to change between Dry and Ice angles.
The handle is constructed from extreme cold resistant polymer laid over the hot-forged aluminum alloy spine.
3 different picks (Mixte supplied as standard, Ice and Race can be purchased separately) provide further refinement for different styles of climbing.
Micro-adjustable trigger finger ledges and X-Rest insert adjust the overall height and size of the handle.
X-Trigger pommel attaches to the shaft for a third ledge.
X-Grip 2 included.
The X-Dream combines two tools in one – a fully optimized tool for technical ice and an aggressive dry tooling machine. This amazing ice axe not only features three different T rated picks for various terrain, but it also incorporates a patented adjustment system in the ergonomic handle to fine tune the swing and torque even further. A quick turn of the allen bolt above the grip allows the tool to be switched between Dry and Ice positions by changing the angle of the handle in relation to the angle of the pick. In the Dry position, the handle kicks upward for a more down and out pull. The Ice position drops the handle for a more natural swing. Climbers can further refine the X-Dream with micro-adjustable trigger finger ledges (choose from two inserts – the X-Finger Small or the X-Finger Large – that can be flipped over to adjust the position) and the X-Rest insert which adjusts the overall height of the handle. All three picks feature the refined beak and tooth configuration CASSIN tools are known for. They are designed to provide solid sticks with minimal penetration making them the perfect choice for brittle ice and technical mixed terrain. The Ice pick brings the tip 6 mm closer to the handle for performance similar to the popular X-All Mountain tool. It also features a small hammer that adds the perfect amount of head weight for thin and brittle ice. The Race pick features a sharp beak for grappling with rock along with more aggressive teeth both on the underside and topside of the pick. The Mixed pick is a blend between the two with similar angles to the Ice pick but only a small hammer plate and teeth reaching further down the shaft like the Race pick.
When you click a link below and then checkout online, no matter what you buy (climbing gear or not), we get a small commission that helps us keep this site up-to-date. Thanks!
If you can't see any buying options above, try turning off all ad-blocking plugins.
Weight (g / oz)

Weight (g / oz)

In grams and ounces, the weight, as stated by the manufacturer/brand.

The weight is the packaged weight. If there are differences in weight (due to optional accessories) we'll note them here.

600 g / 21.20 oz­
Length (cm)
50 cm
Head Details
Hammer­
1 Screw adjustment
Ice Rating
Pick: T / Type 2
Shaft: T / Type 2
Picks
Included with the tool:
X-Dream Mixte
Other Picks Available:
X-Dream Ice
X-Dream Race

Pommel & Grip

Pommel & Grip

Upper Pommel

Fixed: An upper pommel that is fixed in place (it cannot move up/down the shaft nor can it be taken off).

Adjustable: An upper pommel that can move up and down the shaft.

Removable & Adjustable: An upper pommel that is completely removable and also adjustable.

Removeable: An upper pommel that is either on or off (it cannot move up/down the shaft).

None: If there is no upper pommel that comes standard (there may or may not be options to buy separately).

Lower Pommel

Fixed: A lower pommel that is fixed in place (the angle cannot be changed nor can it be taken off).

Adjustable: A lower pommel that can change angle or location on the tool.

Removable: When the lower pommel can be removed but not adjusted.

None: If there is no lower pommel that comes standard (there may or may not be options to buy separately).

Upper Pommel: Removable & adjustable
Lower Pommel: Fixed
Grip Size: Adjustable
Materials
­Head: Chromoly Steel
­­
Certification

Certifications

The main climbing gear certifications are CE and UIAA--and normally the UIAA creates the rules that the CE body also supports. When possible, we try to list all the certifications the product carries.

To sell a climbing product in Europe, the device must be CE certified. There are no official requirements to sell climbing gear in the US. The UIAA certification is a voluntary process.

Learn More

CE, UIAA
This video is not in English but has English subtitle.
Cassin X-Dream Ice Tool Review
Cassin X-Dream Ice Tool Review
Cassin X-Dream Ice Tool Demo
With a high degree of customization and optimization for steep ice, mixed routes, and competition climbing this Italian made ice axe should become a common sight on the steep ice drips around the world. If you lead or follow grade 4 and up waterfall ice you should try to demo a pair of these! While outfitting them with the new X-Dream Alpine Grip puts them in the running for the most expensive set of tools when it comes to waterfall ice axes sometimes you get what you pay for.

Since receiving my review pair, I've actually purchased a second set and use both on a near-daily basis: one is set up with the the X-Trigger (aka third grip rest) and the Race (competition) pick for training and competition use, the other has the stock Mixte pick for ice and mixed climbing. Both tools have seen hundreds of hours of use, and have been loaned out countless times to anyone interested in trying them out. The verdict? Let me put it this way: every single person that has demoed my tools either wanted to buy my pair, or went out and bought a set. Yes, they are that good.
As an ice climbing guide and instructor here in the mini mecca of Ouray I get to swing a lot of tools in my daily life… but the X-Dreams have become my go to choice machinery for anything, and everything, steep, be it rock or ice.