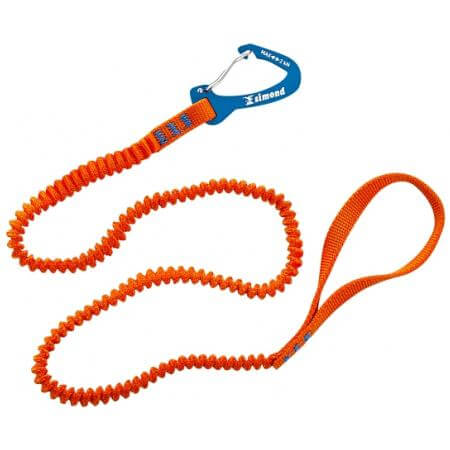 Description
Leash designed for experienced mountaineers and ice climbers for use on steep ice. Great freedom of movement and a secure ice axe while moving and using your hands, thanks to the leash's elasticated strap. The leash fastens to the tie-in loop on your harness with a lark's foot while the other end is clipped into the eyelet in the spike of your axe.
NB. This leash is not an item of PPE. Do NOT hang from it or use it for self-belay.
Price is a static conversion from
This Product is Hard to Find.
We don't know where you can buy this item online in the US. We'll continue to check all the major retailers and will update this page as soon as we find one.
If you know where to find this online in the US, let us know, and we'll add the link.
Weight (g / oz)

Weight (g / oz)

In grams and ounces, the weight, as stated by the manufacturer/brand.

Unfortunately, for ice accessories in particular, these are not common figures that are given out.

45 g / 1.59 oz
Main Material

Main Material

We list as many details here as the manufacturer supplies.

This information is definitely limited for ice accessories.

­
Ice Rating (if applicable)

Ice Rating

Most ice accessories do not have a rating. This field is used for ice axe and ice tool accessories like picks, that have an ice rating.

B / Type 1: Basic

T / Type 2: Technical

Note: Even though it looks like the more aggressive picks are T and the flatter picks are B, this is not always the case. The ratings are based on flex, and not the shape.

(none)
If you know of a good product video that should be here, let us know, and we'll put it up.
If you're looking for gear videos in general, check out our Vimeo and YouTube channels to see the newest gear.