This version of the Summit is officially retired.You've found a page of history! The Summit is no longer produced by Wild Country and it is not available to buy from major online retailers. You can still check out all the specs and claim your ownership.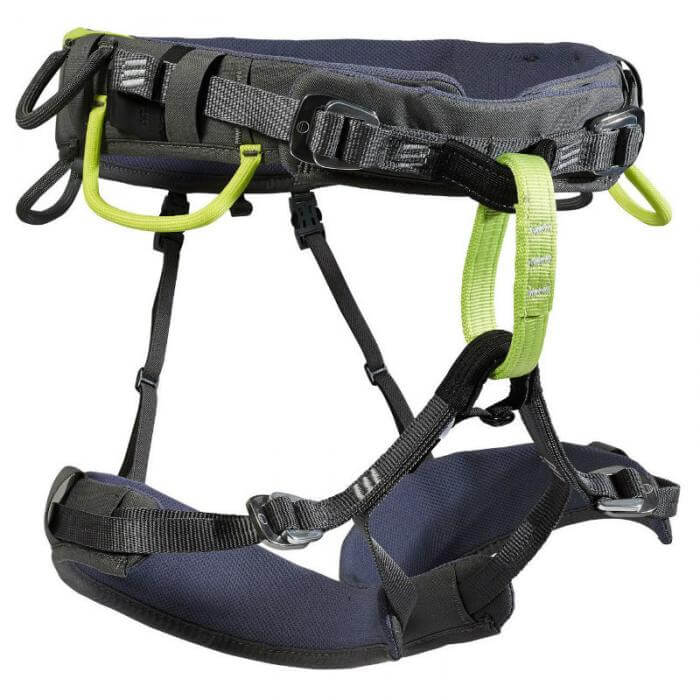 Description
The Summit has a rare combination of features and performance that make it an instant classic. Constructed with our proven 'Load Spread Technology' webbing it's lightweight but incredibly supportive; maximum comfort from minimal material.
The four buckle system, using the latest Ziplock buckles, keep it fully adjustable without sacrificing consistent racking. And with seven gear loops and two ice racks, there's capacity for the biggest pitches! So when you need to go big, to climb higher or to carry more, in total comfort and security look no further. Suitable for multi-pitch, mountain, alpine, big wall and guiding.
'Load Spread Technology' laminate belt and leg loops
DWC500 durable outer
20mm Ziplock double buckle waist
16mm Ziplock leg loops
Seven moulded gear racks
'Batwing' belt shaping
22kn Belay loop
Haul loop
Two ice racks
This Product is Hard to Find.
We don't know where you can buy this item online in the US. We'll continue to check all the major retailers and will update this page as soon as we find one.
If you know where to find this online in the US, let us know, and we'll add the link.
Weight (g)

Weight

In grams, the weight, as stated by the manufacturer/brand.

If there are differences in weight (due to multiple sizes or optional accessories) we'll list them here.

The default weight is the middle-most size, often this is size M.

442 g



Small : 442 g / 15.59 oz
Regular : 456 g / 16.09 oz

Gender
Men
Sizes
S, M, L, XL, XXL
Gear Loops

Number of Gear Loops

Gear loops are used to hold gear (quickdraws, cams, etc) onto your harness. 4 gear loops is most common.

0 - 1 Gear Loops

Most often on full body harnesses or guide/gym style harnesses.

2-3 Gear Loops

Mostly found on lighter harnesses made for [ski] mountaineering or high-end sport climbing where weight is a high priority.

4 - 5 Gear Loops

The standard/most common number for climbing harnesses. Perfect for sport and trad.

More Than 6 Gear Loops

Designed for long multi-pitch and big wall climbing, found on harnesses made to hold the maximum amount of gear.

Worth Considering

Occasionally, the number of gear loops will change on a harness model depending on the size. There could be 7 gear loops for the med/large but only 5 gear loops for the xsmall/small. In this case we list the highest number for the filters, and then write an explanation on the product page like, "Size S/XS can only fit 5 gear loops."

7 Gear loops
Ice Clip Slots

Ice Clip Slot

Ice clipper slots are made to fit a carabiner that holds ice screws. These slots are generally only used by ice climbers but there is no disadvantage to having them on your harness.

Less than 40% of harnesses will have ice clipper slots. And those harnesses will usually have 2 or 4 slots, often located next to, or between, the gear loops.

No, 0
Belay / Tie-In
One Loop
Waist Buckle Type
Quick Adjust
Leg Buckle Type
Quick Adjust
Drop Seat
Yes
Haul Loop

Haul Loop

Trad climbers often look for a haul loop as they're intended to haul a rope (second line) or pack (while you climb the chimney).

A haul loop can also hold shoes or other accessories. Although not the intended use, it is also commonly used to hold a chalk bag.

Yes ­
Certification
CE, EN
Size Chart

Small
Waist : 75-95 cm / 29.5-37.5 in
Legs : 50-59 cm / 19.5-23 in
Regular
Waist : 89-105 cm / 35-41.5 in
Legs : 59-68 cm / 23-27 in

The summit fits the bill very nicely. It has a moulded belt, tons of rack space for gear and ice tools and full adjustability. It's super-comfy for those hanging belays and protracted sessions. Come winter, you can adjust to accommodate more layers and put it on over crampons. The buckles are very sturdy and there's no sign of wear yet, which suggests good durability.
Of the two harnesses I've been using, this has been getting the lions share of the attention. It's designed as a do-it-all harness and that's what it does: everything, really well. Recommended.

Overall, I thought that the comfort of both the Summit and Eclipse makes them good all rounders for long rock climbs and lower grade winter routes, but the slight issue with gear storage could mean that the Summit is a harness for cruising all day rather than pushing your grade.

To look at, this isn't the prettiest harness in the world. While the belay loop and front gear loops provide a splash of fluoro-green pizzazz, the waist and leg loops are a dark grey that is unlikely to clash with most outfits, but doesn't really shout 'look at me!' either. Aethetics aside, the Summit might just be the most feature-packed harness that this author has ever slipped up his inner thigh… If you consider yourself a 'technicolour' rock-god and your current workhorse needs to be euthanised then the Summit might just be your trusty, new steed (because its certainly no one-trick pony).
Geordie Webb
General information and pictorial instruction for using correctly.
A pictoral representation of UIAA-105 and EN-12277 standards for harnesses.
The UIAA equipment standard provides a baseline for equipment performance in a test lab under controlled conditions on new equipment. Although these test conditions are relevant to the conditions encountered climbing, conditions encountered at the crags and the condition of the equipment are equally important. This recommendation from the UIAA member federation The British Mountaineering Council (BMC) provides vital equipment information that is NOT explicitly addressed in the standard, particularly failure modes of the equipment and recommendations for the use, inspection, maintenance, and retirement of equipment.