The Adjama 2014 is technically retired but it's still sold online.The Adjama 2014 is no longer produced by Petzl. We're showing it as "available" on WeighMyRack because you can still find it at trustworthy online retailers.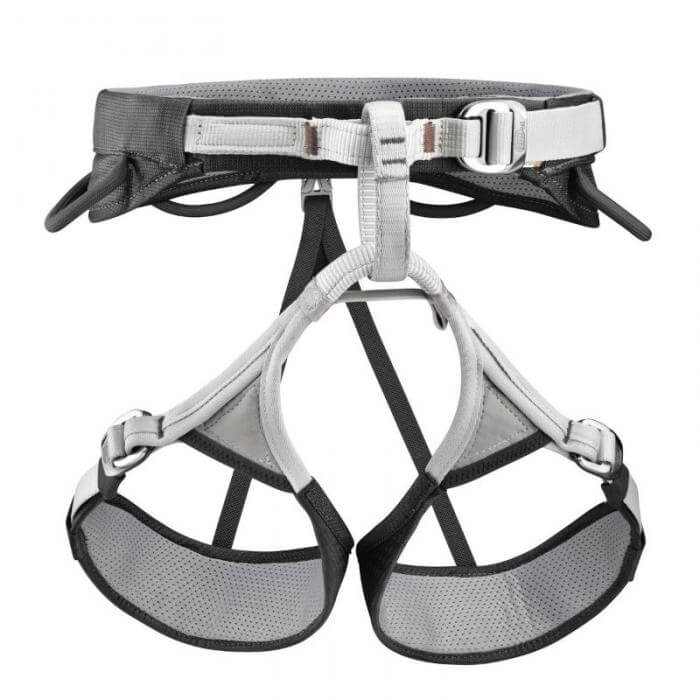 Description
The adjustable leg loops of the ADJAMA harness make it an ideal piece of equipment for mountaineering and ice climbing. With its EndoFrame construction, it provides excellent weight distribution around the waist and legs to ensure greater comfort. The DoubleBack buckles on the waistbelt and leg loops ensure quick and easy adjustment. The tie-in points are made of Dyneema for improved resistance to rope friction.
EndoFrame construction guarantees excellent weight distribution for optimal comfort:
- waistbelt and leg loops with doubled straps
- waistbelt wider on the sides
Specific stitching on the waistbelt minimizes hard spots and chafing
DoubleBack buckle allows quick and easy waistbelt adjustment
Adjustable leg loops allow the harness to be donned while wearing mountaineering or ski boots, or to easily adjust the size for different clothing
Dyneema tie-in points for excellent resistance to rope friction
Four equipment loops: two rigid ones in front for quick and easy access to equipment and two flexible ones in the rear to avoid creating pressure points with a backpack
Two slots for CARITOOL tool holder
Rear loop for haul rope
Detachable leg loop elastics
When you click a link below and then checkout online, no matter what you buy (climbing gear or not), we get a small commission that helps us keep this site up-to-date. Thanks!
If you can't see any buying options above, try turning off all ad-blocking plugins.
Weight (g)

Weight

In grams, the weight, as stated by the manufacturer/brand.

If there are differences in weight (due to multiple sizes or optional accessories) we'll list them here.

The default weight is the middle-most size, often this is size M.

420 g



M : 420 g / 14.8 oz
(weight converted from grams to ounces)

Gender
Men
Sizes
S, M, L, XL, XXL
Gear Loops

Number of Gear Loops

Gear loops are used to hold gear (quickdraws, cams, etc) onto your harness. 4 gear loops is most common.

0 - 1 Gear Loops

Most often on full body harnesses or guide/gym style harnesses.

2-3 Gear Loops

Mostly found on lighter harnesses made for [ski] mountaineering or high-end sport climbing where weight is a high priority.

4 - 5 Gear Loops

The standard/most common number for climbing harnesses. Perfect for sport and trad.

More Than 6 Gear Loops

Designed for long multi-pitch and big wall climbing, found on harnesses made to hold the maximum amount of gear.

Worth Considering

Occasionally, the number of gear loops will change on a harness model depending on the size. There could be 7 gear loops for the med/large but only 5 gear loops for the xsmall/small. In this case we list the highest number for the filters, and then write an explanation on the product page like, "Size S/XS can only fit 5 gear loops."

4 Gear loops
Ice Clip Slots

Ice Clip Slot

Ice clipper slots are made to fit a carabiner that holds ice screws. These slots are generally only used by ice climbers but there is no disadvantage to having them on your harness.

Less than 40% of harnesses will have ice clipper slots. And those harnesses will usually have 2 or 4 slots, often located next to, or between, the gear loops.

Yes, 2
Belay / Tie-In
One Loop
Waist Buckle Type
Quick Adjust
Leg Buckle Type
Quick Adjust
Drop Seat
Yes
Haul Loop

Haul Loop

Trad climbers often look for a haul loop as they're intended to haul a rope (second line) or pack (while you climb the chimney).

A haul loop can also hold shoes or other accessories. Although not the intended use, it is also commonly used to hold a chalk bag.

Yes (0kN)
Certification
CE, EN, UIAA
Size Chart

S-M
Waist belt : 70-80 cm / 27.6-31.5 in
Leg loops : 47-57 cm / 18.5-22.4 in
M-L
Waist belt : 76-86 cm / 29.9-33.9 in
Leg loops : 52-62 cm / 20.5-24.4 in
L-XL
Waist belt : 85-95 cm / 33.5-37.4 in
Leg loops : 57-67 cm / 22.4-26.4 in
XL-XXL
Waist belt : 89-99 cm / 35-39 in
Leg loops : 60-70 cm / 23.6-27.6 in
(we converted centimeters to inches)
Details of the Sama, Adjama, Selena, Luna Harnesses
This video goes over the different features of the harnesses in Petzl's line -- talking about the difference in mens/womens versions and the type of climbing you're doing.
Watch a tour of Petzl's facilities as they explain all the testing involved
Warning: This video is dubbed in English. If you're getting antsy, skip to section 7:40-8:15 for one of the most interesting parts, where they show a hardware specific camera inspection.

I honestly can't fault this harness. Petzl are good at what they do and have made a very good, well thought out harness. Its comfy, not too heavy and has nice features. You won't be disappointed with this harness. It gets a healthy 2 thumbs up from me.