The Cirque is officially retired.You've found a page of history! The Cirque is no longer produced by Misty Mountain and it is not available to buy from major online retailers. You can still check out all the specs and claim your ownership.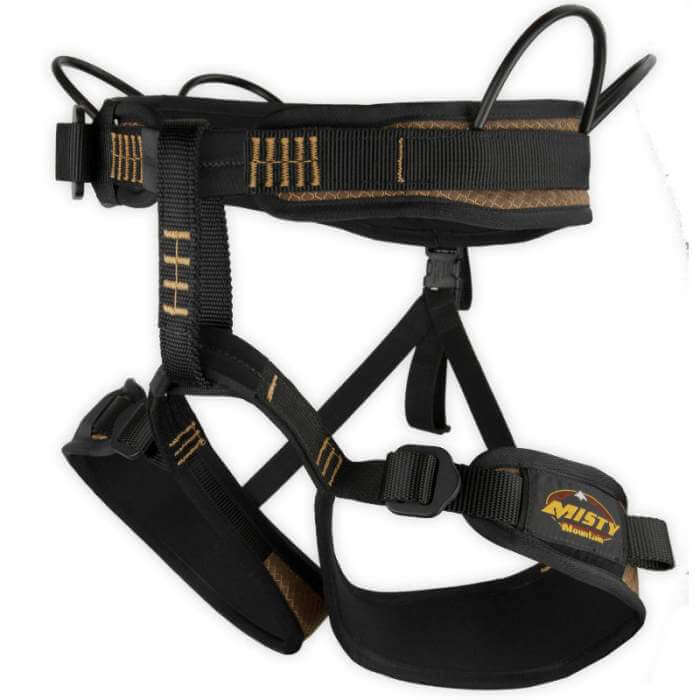 Description
The Cirque offers great versatility and value, with all the features found on more expensive harnesses. Constructed from die-cut laminate with integral PE foam padding, the outer layer of 1000 denier nylon is abrasion resistant for durability. Foam padded leg loops are adjustable and completely encircled by woven nylon webbing for durability and security. Comes with four big gear loops, strong belay/rappel loop and rear haul loop, adjustable rear risers, reinforced tie-in points and sleek tail tuck sleeves. Trad, Sport, Ice; the Cirque does it all well.
When you click a link below and then checkout online, no matter what you buy (climbing gear or not), we get a small commission that helps us keep this site up-to-date. Thanks!
If you can't see any buying options above, try turning off all ad-blocking plugins.
Weight (g)

Weight

In grams, the weight, as stated by the manufacturer/brand.

If there are differences in weight (due to multiple sizes or optional accessories) we'll list them here.

The default weight is the middle-most size, often this is size M.

419 g



M : 419 g / 14.8 oz

Misty Mountain doesn't provide the weights for other sizes so we're working on gathering this info by hand, stay tuned!

Gender
Unisex
Sizes
XS, S, M, L, XL
Gear Loops

Number of Gear Loops

Gear loops are used to hold gear (quickdraws, cams, etc) onto your harness. 4 gear loops is most common.

0 - 1 Gear Loops

Most often on full body harnesses or guide/gym style harnesses.

2-3 Gear Loops

Mostly found on lighter harnesses made for [ski] mountaineering or high-end sport climbing where weight is a high priority.

4 - 5 Gear Loops

The standard/most common number for climbing harnesses. Perfect for sport and trad.

More Than 6 Gear Loops

Designed for long multi-pitch and big wall climbing, found on harnesses made to hold the maximum amount of gear.

Worth Considering

Occasionally, the number of gear loops will change on a harness model depending on the size. There could be 7 gear loops for the med/large but only 5 gear loops for the xsmall/small. In this case we list the highest number for the filters, and then write an explanation on the product page like, "Size S/XS can only fit 5 gear loops."

4 Gear loops
Ice Clip Slots

Ice Clip Slot

Ice clipper slots are made to fit a carabiner that holds ice screws. These slots are generally only used by ice climbers but there is no disadvantage to having them on your harness.

Less than 40% of harnesses will have ice clipper slots. And those harnesses will usually have 2 or 4 slots, often located next to, or between, the gear loops.

No, 0
Belay / Tie-In
One Loop
Waist Buckle Type
Manual Doubleback
Leg Buckle Type
Manual Doubleback
Drop Seat
Yes
Haul Loop

Haul Loop

Trad climbers often look for a haul loop as they're intended to haul a rope (second line) or pack (while you climb the chimney).

A haul loop can also hold shoes or other accessories. Although not the intended use, it is also commonly used to hold a chalk bag.

Yes ­
Certification
­
Size Chart

XS
Waist : 61-66 cm / 24-26 in
Legs : 46-51 cm / 18-20 in

S
Waist : 66-74 cm / 26-29 in
Legs : 48-56 cm / 19-22 in

M
Waist : 74-81 cm / 29-32 in
Legs : 53-61 cm / 21-24 in

L
Waist : 81-89 cm / 32-35 in
Legs : 58-66 cm / 23-26 in

XL
Waist : 89-97 cm / 35-38 in
Legs : 64-71 cm / 25-28 in
Introducing 2015 new harnesses.