The Lucifer Semi Classic is officially retired.You've found a page of history! The Lucifer Semi Classic is no longer produced by Singing Rock and it is not available to buy from major online retailers. You can still check out all the specs and claim your ownership.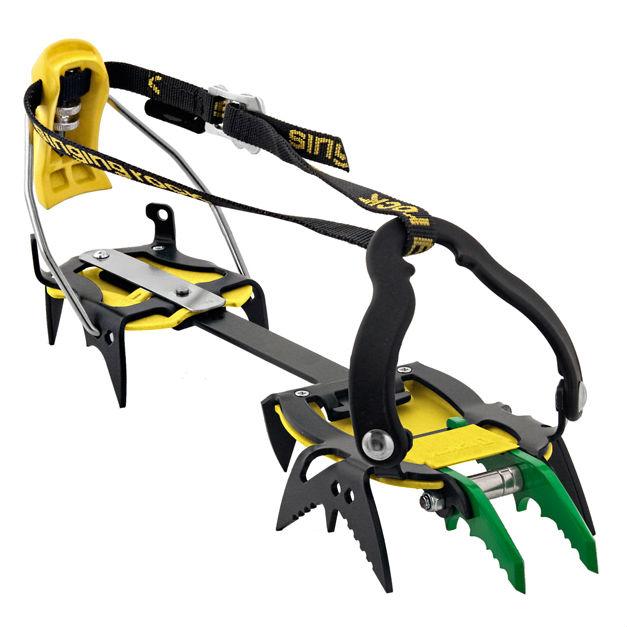 Description
Versatile crampons with replaceable front points
designed for climbing on steep ice, frozen waterfalls and difficult mixed routes
modular construction allows use of crampons with mono or dual front points
mono point is placed under the big toe and the asymmetrical shape of crampon ideally adapts to the boot and the front points thus providing maximum efficiency
in a steep terrain
points and frame are made of hardened chromoly steel
the size may be adjusted without any tool
BOUNCER anti-snow plates included
the crampons are delivered with two fastening systems
for rigid mountaineering boots
Weight per Pair (g / oz)

Weight per Pair (g / oz)

In grams and ounces, the weight of both crampons together, as stated by the manufacturer/brand.

If there are differences in weight (due to multiple sizes or optional accessories) we'll note those here.

1150 g / 40.57 oz­
Ideal Uses
Technical Mountaineering / Alpine Waterfall Ice Mixed (Rock & Ice) / Dry Tooling
Binding System
Semi-auto
Sizing
­
Front Points
Vertical Mono / Dual (replaceable points)
Front Point Offset
Yes, Adjustable
Number of Points
11-12
Main Material
Hardened Chromoly Steel
Wear Indicators
No
Anti-Ball Plates
Included­
Crampon Case
Not Available­
Heel Spur Attachment
None made for this model­
Certification

Certifications

The main climbing gear certifications are CE and UIAA--and normally the UIAA creates the rules that the CE body also supports. When possible, we try to list all the certifications the product carries.

To sell a climbing product in Europe, the device must be CE certified. There are no official requirements to sell climbing gear in the US. The UIAA certification is a voluntary process.

Learn More

CE, EN
This video shows how to sharpen your crampon correctly.
Adding Anti Snow Plate in Lucifer
This video shows how to add Anti Snow Plate
Switching Mono-Dual Point of Lucifer
How to set up and adjust Lucifer crampon.
How to use Lucifer, warnings, maintenance, transport, storage and lifespan with instructional pictures.