The Irvis Flexlock 2015 is officially retired.You've found a page of history! The Irvis Flexlock 2015 is no longer produced by Petzl and it is not available to buy from major online retailers. You can still check out all the specs and claim your ownership.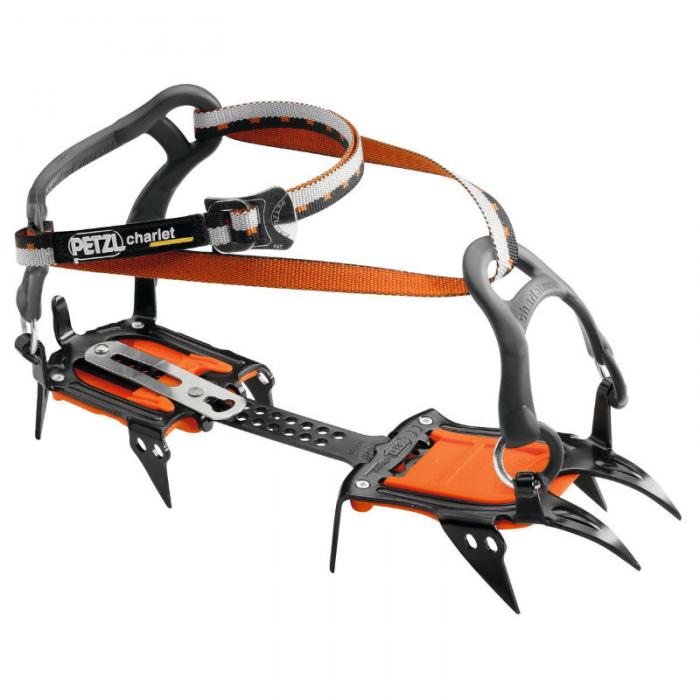 Description
At 820 g per pair (FLEXLOCK), the 10-point IRVIS crampons are designed for glacier travel, ski mountaineering and snowy or icy approaches. They are lightweight and easy to use, making them a favorite in any conditions. Available with two different binding systems, these crampons can fit most boots, even those without welts. Durable and easy to adjust. They are equipped with ANTISNOW plates.
Point lengths designed for maximum stability without having to high-step
Sharp points for great purchase in ice
Two wide front points for purchase in snow, reinforced for rigidity
Second row of teeth angled towards the front for support when front-pointing
Two teeth at the rear for stability when descending facing downhill
Two teeth at 45° angles at the rear of the forefoot for purchase while traversing or descending
Side points for purchase while traversing
Linking bar can be set for flexible or semi-rigid modes to adapt the crampon to flexible or rigid boots
When you click a link below and then checkout online, no matter what you buy (climbing gear or not), we get a small commission that helps us keep this site up-to-date. Thanks!
If you can't see any buying options above, try turning off all ad-blocking plugins.
Weight per Pair (g / oz)

Weight per Pair (g / oz)

In grams and ounces, the weight of both crampons together, as stated by the manufacturer/brand.

If there are differences in weight (due to multiple sizes or optional accessories) we'll note those here.

820 g / 28.92 oz­
Ideal Uses
Glacier Travel / Mountaineering
Sizing
­
Binding System
Universal
Front Points
Horizontal Dual ­
Front Point Offset
No
Number of Points
10
Main Material
Steel
Wear Indicators
No
Anti-Ball Plates
Included­
Crampon Case
Sold Separately (see the case here)
Heel Spur Attachment
None made for this model­
Certification

Certifications

The main climbing gear certifications are CE and UIAA--and normally the UIAA creates the rules that the CE body also supports. When possible, we try to list all the certifications the product carries.

To sell a climbing product in Europe, the device must be CE certified. There are no official requirements to sell climbing gear in the US. The UIAA certification is a voluntary process.

Learn More

CE, EN, UIAA
This video shows how to sharpen your crampon correctly.