The Diet Pad is officially retired.You've found a page of history! The Diet Pad is no longer produced by Charko and it is not available to buy from major online retailers. You can still check out all the specs and claim your ownership.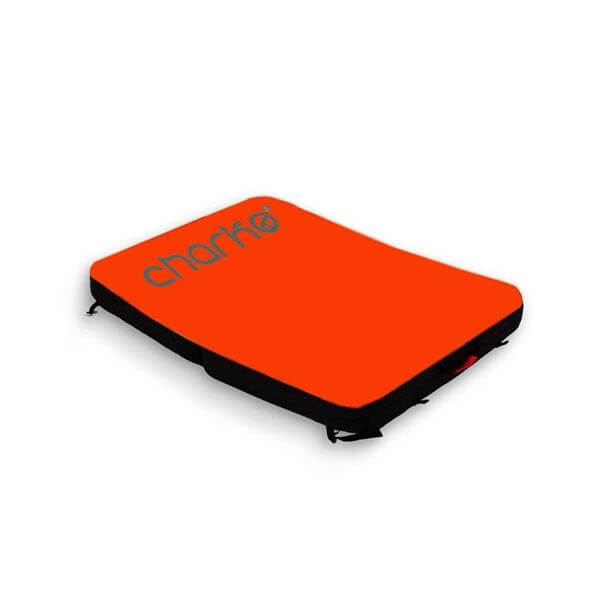 Description
3 layers inside with different densities provides a good fall absorption.
Polyester made.
Hard buckles.
Handles matching with top cover and adjustable back.
You can
buy this pad directly from Charko
. We don't get a commission but are stoked to support small businesses. Trade a high price for rad policies: At Charko, we do everything we can to minimize the transportation necessary for the production of our products by using E.U. providers and fabricating everything at our headquarters or at collaborating sites within 20 km.
If you can't see any buying options above, try turning off all ad-blocking plugins.
Weight (lbs / kg)

Weight (lbs / kg)

In pounds and kilograms, the weight, as stated by the manufacturer/brand.

11.02 lbs / 5.00 kg
Fold Type
Taco
Number of Foam Layers
three
Foam Layout
3 layers inside with different densities
Fabric
Top: polyester like cordura
Bottom: polyester like cordura
Features
Waist Belt
Side Handle(s)
Backpack Carry
Dimensions (ft / m)

Dimensions (ft / m)

In feet and inches / meters and centimeters, the length, width, and height of the bouldering pad, as stated by the manufacturer/brand

4.33 ft x 3.28 ft x 5.10 in
1.32 m x 1.00 m x 13.00 cm
If you know of a good product video that should be here, let us know, and we'll put it up.
If you're looking for gear videos in general, check out our Vimeo and YouTube channels to see the newest gear.