The Boss Hogg is officially retired.You've found a page of history! The Boss Hogg is no longer produced by Metolius and it is not available to buy from major online retailers. You can still check out all the specs and claim your ownership.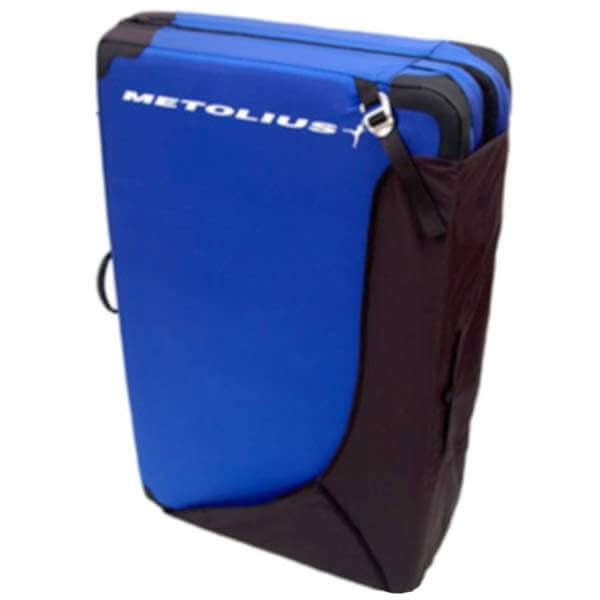 Description
Innovative new foam layering system provides the ultimate in fall-stopping potential.
This Product is Hard to Find.
We don't know where you can buy this item online in the US. We'll continue to check all the major retailers and will update this page as soon as we find one.
If you know where to find this online in the US, let us know, and we'll add the link.
Weight (lbs / kg)

Weight (lbs / kg)

In pounds and kilograms, the weight, as stated by the manufacturer/brand.

10.00 lbs / 4.92 kg
Fold Type
Straight Hinge
Number of Foam Layers
three
Foam Layout
1" closed-cell foam is unsplit, 3" open-cell and ½" closed-cell bottom
Fabric
Top: ballistics nylon
Bottom: ballistics nylon
Features
Waist Belt
Side Handle(s)
Backpack Carry
Closing Flap
Shoe Cleaning Spot
USA Made
Dimensions (ft / m)

Dimensions (ft / m)

In feet and inches / meters and centimeters, the length, width, and height of the bouldering pad, as stated by the manufacturer/brand

3.00 ft x 4.00 ft x 4.50 in
0.91 m x 1.22 m x 10.20 cm
Features of Boss Hogg and Session Bouldering Pad
Metolius Bouldering Pad Boss Hogg, Recon, Magnum and Session

This pad is ideal for average outings on small to medium sized problems or in conjunction with other pads for highballs. It works well on most terrain except extremely jagged uneven landings where a non hinged pad is often better to conform and cover the sharp rocks or roots.