The Posiwire 18cm 2015 is technically retired but it's still sold online.The Posiwire 18cm 2015 is no longer produced by Black Diamond. We're showing it as "available" on WeighMyRack because you can still find it at trustworthy online retailers.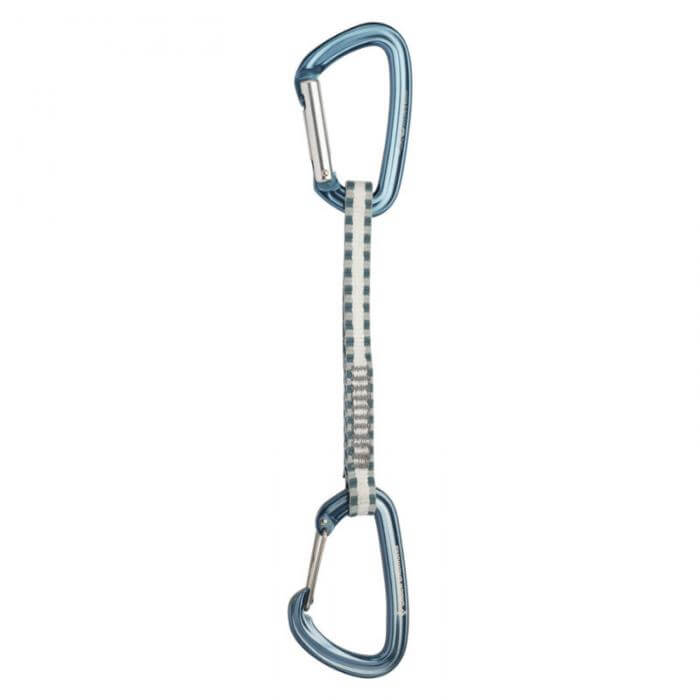 Description
With a snag-free Positron carabiner on top and a lightweight, easy-clipping original HotWire carabiner on bottom, the Black Diamond PosiWire Quickdraw combines smooth clippability and wiregate functionality. The 14 mm (.6 in) DynexTM dogbone is not only durable and easy to grab, but it features our Straitjacket insert to keep the bottom biner in the optimal clipping position.
Positron on top and original HotWire on bottom
HotWire's wiregate eliminates gate flutter and won't freeze up
Positron's keylock nose eases clipping and cleaning
14 mm (.6 in) Dynex dogbone is light, durable and easy to grab
Straitjacket insert keeps bottom carabiner properly oriented
When you click a link below and then checkout online, no matter what you buy (climbing gear or not), we get a small commission that helps us keep this site up-to-date. Thanks!
If you can't see any buying options above, try turning off all ad-blocking plugins.
| | |
| --- | --- |
| Weight | 105 g |
| Dogbone Size | 18 cm long, 14 mm wide |
| Dogbone Material | Dynex­ |
| Dogbone Strength (kN) | ­ |
| Top Carabiner | Positron Straight - |
| Bottom Carabiner | Hotwire 2015 - |
Posiwire Quickdraw Review

The Black Diamond PosiWire is a great pick for vertical and/or moderate sport climbs. The bottom carabiner is great for clipping but the unprotected notch can snag when unclipping your rope on steeper terrain. They're also a great choice if you don't want to spend your entire climbing gear budget on one set of draws. If you buy these draws though, just make sure you put some colored tape on them so you know which ones are yours at the crag, as you'll likely see lots of them around.
How to use Carabiners and Quickdraws, warnings, inspection, care and maintenence with instructional pictures.